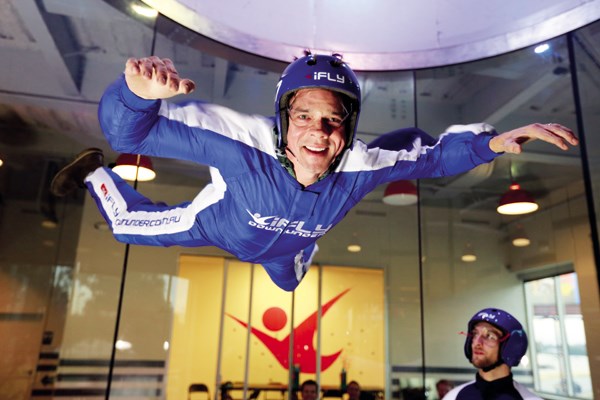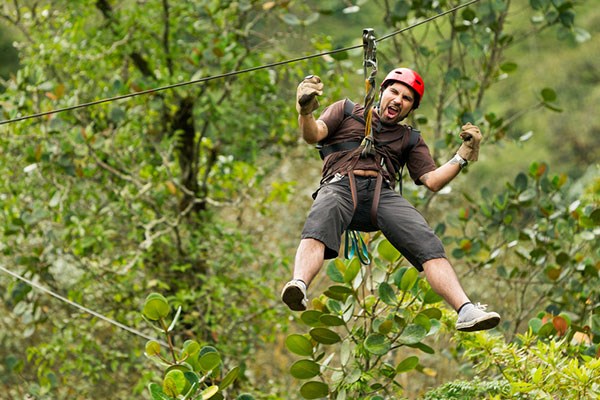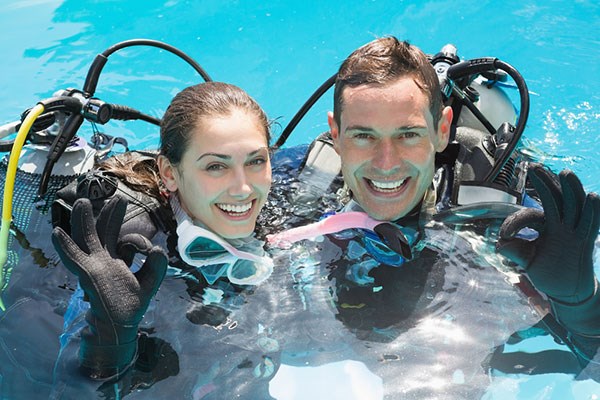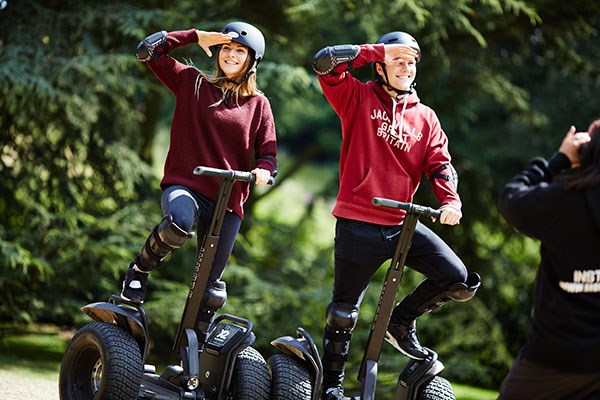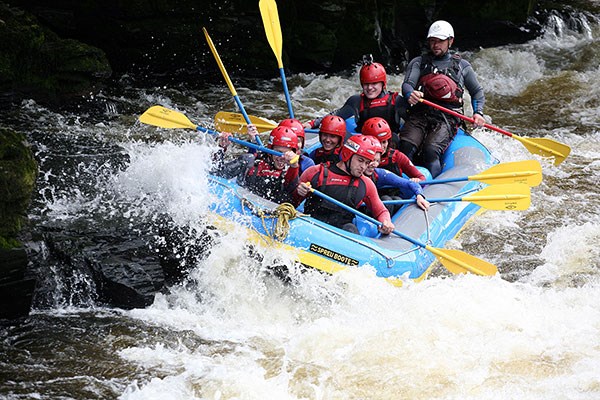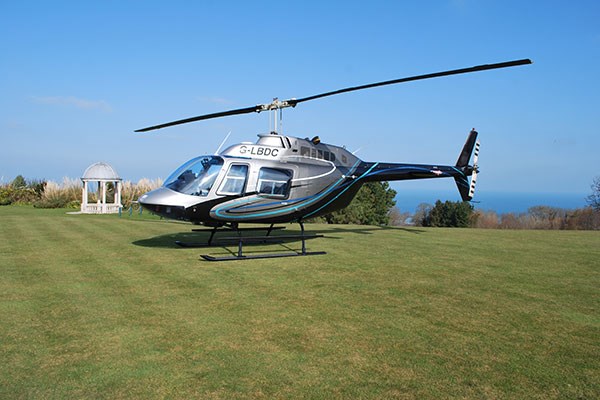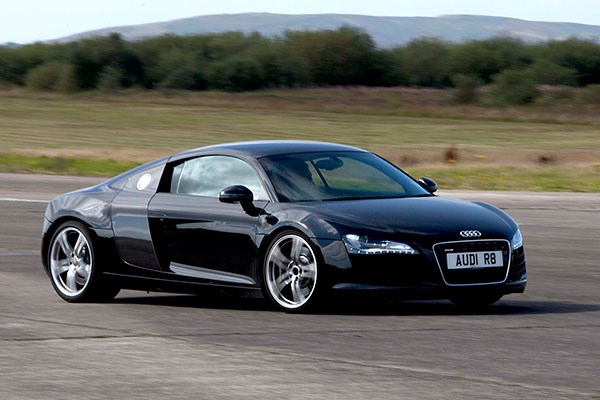 Action Adventures - Smartbox by Buyagift
Product code: 10141541
4.5 out of 5 (based on 2150 reviews)
Write a review »
Great gift with 505 locations available

Select your chosen experience after you purchase

Book your chosen location
How it works
There are many locations available as part of this experience, which you can browse below.
Simply click BUY NOW to purchase this multi choice voucher, leaving your options open for now
Once you have received your voucher you can book your chosen location.
Summary
Give the adrenaline junkie in your life an incredible day of excitement that they'll never want to forget. Whether they want to take to the skies and soar through the clouds, take the plunge and bungee jump from phenomenal heights or simply feel the roar of a powerful engine as they slam their foot on the accelerator, we've hand-picked an incredible selection of adventure days out to choose from. With venues available UK wide and experiences from surfing to zorbing, scuba diving to indoor skydiving and supercar driving to JCB dumper racing, they will experience the ultimate adrenaline rush!
Fine Print
What's included?
This voucher includes a selection of over 300 incredible experiences to choose from, including adventure days out, adrenaline thrills and driving days for either one or two people
This voucher is valid for 24 months
Your voucher is exchangeable
You will be able to select your chosen experience after purchasing
What do I need to know?
All dates are subject to availability
Restrictions may apply and vary from experience to experience
Please note the list of participating venues is subject to change
Experiences available within this choice voucher
Filter Products:
Jet Ski Experience

Multiple Locations

(16)

more info »

Harness Zorbing for Two at London South

Surrey - Croydon

(1)

more info »

Adrenaline Triple Whammy

South Yorkshire - Rotherham

(19)

more info »

30 Minute Golf Lesson with a PGA Professional and includes a £5 voucher

Multiple Locations

(3)

more info »

Double Supercar Driving Blast

Multiple Locations

more info »

Half Day Kayaking Experience

County Durham - Ebchester

more info »

Junior Quad Bike Thrill

Multiple Locations

(11)

more info »

4x4 Off Road Driving Experience

Kent - West Malling

(10)

more info »

Hampton Court Palace Kayak Tour for One

Surrey - Richmond Upon Thames

more info »

Gangster Tour of London for Two

Greater London - Tower Hamlets

(22)

more info »

Scuba Diving Experience for Two in East Anglia

Suffolk - Ipswich

more info »

iFLY Indoor Skydiving

Multiple Locations

(11)

more info »

Family Tour of Wembley Stadium

Greater London - Brent

(45)

more info »

Quad Bike Thrill

Multiple Locations

(17)

more info »

One Hour Hovercraft Flight

Leicestershire - Lutterworth

(12)

more info »

Jet Viper Powerboat Blast for Two

Hampshire - Southampton

(6)

more info »

Basic Off Road Driving Experience

Multiple Locations

(10)

more info »

White Water Rafting for One at Lee Valley - Weekdays

Hertfordshire - Enfield

more info »

5 Minute Helicopter Buzz Flight For One

Multiple Locations

(15)

more info »

Aqua Sphereing for Two

Multiple Locations

(23)

more info »

White Water Rafting Thrill

Multiple Locations

(18)

more info »

Platinum Drifting Experience

Hertfordshire - Hemel Hempstead

(25)

more info »

Clay Pigeon Shooting Experience in Birmingham

West Midlands - Birmingham

more info »

Indoor Bungee Jump Experience

South Yorkshire - Rotherham

(12)

more info »

4x4 Off Road Driving Adventure

Multiple Locations

(6)

more info »

Clay Pigeon Shooting Experience in Warwickshire

Warwickshire - Watergall

more info »

Clay Pigeon Shooting Experience in Bristol

Avon - Bristol

more info »

Harness Sphereing for Two

Multiple Locations

(61)

more info »

Clay Pigeon Shooting Experience in Kent

Kent - Dartford

more info »

Clay Pigeon Shooting Experience in Cheshire

Cheshire - Congleton

more info »

Helicopter Buzz Flight for One

Multiple Locations

(19)

more info »

Tour of Twickenham for Two

Greater London - Hounslow

(56)

more info »

Clay Pigeon Shooting Experience in Dorset

Dorset - Blandford

more info »

One-to-One One Hour Off Road Driving in Kent

Kent - Ashford

(73)

more info »

Bungee Jump Experience

Multiple Locations

(61)

more info »

Adult Tour for Two of Manchester City Stadium

Greater Manchester - Manchester

(48)

more info »

Thames RIB Experience (Adult)

Greater London - Westminster

(122)

more info »

12 Mile Helicopter Theme Flight for One

Multiple Locations

(52)

more info »

Bounce Below for Two

Gwynedd - Blaenau Ffestiniog

(68)

more info »

Adult Emirates Stadium Tour for Two, Includes Branded Earphones

Greater London - Islington

(91)

more info »

Bungee Jump in Berkshire

Berkshire - Maidenhead

more info »

Adult Tour of Stamford Bridge for Two

Greater London - Hammersmith & Fulham

(70)

more info »

Bungee Jump in Brighton

East Sussex - Brighton

more info »

30 Minute Flight Simulator Experience

Bedfordshire - Leighton Buzzard

(24)

more info »

Aqua Zorbing for Two at London South

Surrey - Croydon

(5)

more info »

Indoor Surfing Experience for One

Bedfordshire - Milton Ernest

(12)

more info »

O'Neill Full Day Surfing

Cornwall - Newquay

(4)

more info »

60 Minute RIB Blast and Spinnaker Tower Experience

Hampshire - Portsmouth

(1)

more info »

Aqua Zorbing for One in Manchester South

Cheshire - Macclesfield

(1)

more info »

Half Day Coasteering Experience

Dyfed - Pembrokeshire

(3)

more info »

The Yorkshire Three Peaks Challenge

North Yorkshire - Settle

(4)

more info »

Introductory Wakeboarding Experience in Brighton

East Sussex - Brighton

(1)

more info »

Bungee Jump at Salford Quays

Greater Manchester - Salford

more info »

Scuba Diving Experience for Two in Buckinghamshire

Buckinghamshire - Amersham

more info »

Bubblemaker Kids Scuba Experience for Two

Multiple Locations

(5)

more info »

Scuba Diving Experience for Two in Essex

Essex - Barking & Dagenham

more info »

30 Minute Fighter Pilot Flight Simulator Experience

Cheshire - Stalybridge

(13)

more info »

45 Minute Gunwharf Quay RIB Blast

Hampshire - Portsmouth

(1)

more info »

Half Day Surfing in Bournemouth

Dorset - Christchurch

more info »

High Speed Passenger Ride (UK Wide)

Multiple Locations

(10)

more info »

Two Hour Land Yachting Experience for One

Kent - Greatstone Beach

(8)

more info »

Archery Experience in Bedfordshire

Bedfordshire - Riseley

(4)

more info »

Abseiling Experience

West Sussex - East Grinstead

(4)

more info »

Paintballing for Eight in Bath

Avon - Bristol

more info »

Half Day "Cowes Adventure" RIB Experience

Hampshire - Portsmouth

(3)

more info »

Paintballing for Eight

Buckinghamshire - Barton Hartshorn

more info »

Jet Ski Experience in Reading

Berkshire - Reading

more info »

90 Minute Extreme RIB Adventure

Hampshire - Southampton

(4)

more info »

Harness Sphereing for Two

Buckinghamshire - Milton Keynes

more info »

Harness Zorbing for Two at Manchester South

Cheshire - Macclesfield

(1)

more info »

Half Day Kayaking

Dyfed - Pembrokeshire

(2)

more info »

Paintballing for Eight in Cambridge

Cambridgeshire - Royston

more info »

Paintballing for Eight in Ayreshire

Central Scotland - Ayreshire

more info »

Junior High Ropes Adventure in Norfolk

Norfolk - Kings Lynn

(1)

more info »

Paintballing for Eight in Lanarkshire

Central Scotland - Lanarkshire

more info »

Paintballing for Eight

Cheshire - Cocksmoss Lane

more info »

Harness Zorbing for Two in Nottingham

Nottinghamshire - Nottingham

(2)

more info »

Half Day Surfing in Padstow

Cornwall - Padstow

more info »

20 Minute Microlight Flight in Nottinghamshire

Nottinghamshire - Worksop

(1)

more info »

Half Day Surfing in Fanore

County Clare - Fanore

more info »

Spy Kids Training Camp

Buckinghamshire - Milton Keynes

(6)

more info »

Paintballing for Eight in County Durham

County Durham - Scotch Corner

more info »

Outdoor Climbing Experience

West Sussex - East Grinstead

(2)

more info »

Paintballing for Eight in Newton Abbott

Devon - Newton Abbott

more info »

Offshore Powerboat Taster Session

Hampshire - Southampton

(4)

more info »

Half Day Surfing in Devon

Devon - Woolacombe

more info »

Paintballing for Eight in Dundee

Angus - Edzell

more info »

Self-Guided Cycle Tour for Two

Cumbria - Windermere

(4)

more info »

Cowboy Adventure for Kids

Hampshire - New Milton

(32)

more info »

Half Day Surfing in Swansea

Dyfed - Swansea

more info »

Scuba Diving Experience for Two in Farnborough

Hampshire - Farnborough

more info »

Bumblebee Experience - Camaro ZL1 Driving Blast

Multiple Locations

(4)

more info »

Paintballing for Eight in Preston

Lancashire - Preston

more info »

Paintballing for Eight in Elsham

Lincolnshire - Elsham

more info »

Half Day Surfing

Multiple Locations

(1)

more info »

Paintballing for Eight in Liverpool

Merseyside - Liverpool

more info »

Paintballing for Eight in Thetford

Norfolk - Thetford

more info »

Scuba Diving Experience for Two in Berkshire

Berkshire - Crowthorne

more info »

White Water Rafting Thrill in Northampton

Northamptonshire - Northampton

more info »

Clay Pigeon Shooting Experience in Waterperry

Oxfordshire - Waterperry

more info »

Bungee Jump in Cambridgeshire

Cambridgeshire - Huntingdon

more info »

Paintballing for Eight in Stoke

Staffordshire - Stoke-On-Trent

more info »

Paintballing for Eight in Belsay

Tyne & Wear - Belsay

more info »

Clay Pigeon Shooting Experience in Cumbernauld (Scotland)

Central Scotland - Cumbernauld

more info »

Harness Zorbing for Two in Cheshire

Cheshire - Macclesfield

more info »

Paintballing for Eight in Middle Cefn

West Midlands - Middle Cefn

more info »

Paintballing for Eight in Shareshill

West Midlands - Shareshill

more info »

Half Day Surfing in Newquay (Cornwall)

Cornwall - Newquay

more info »

Paintballing for Eight in Crawley Road

West Sussex - Crawley Road

more info »

Paintballing for Eight in Little Hampton

West Sussex - Littlehampton

more info »

Bungee Jump in Belfast

County Antrim - Belfast

more info »

Half Day Canoeing Experience

County Durham - Ebchester

more info »

Paintballing for Eight in West Yorkshire

West Yorkshire - Burley in Wharfdale

more info »

Paintballing for Eight in Wiltshire

Wiltshire - Landford

more info »

Scuba Diving Experience for Two in Buckinghamshire

Buckinghamshire - Aylesbury

more info »

JCB Dumper Racing at Diggerland in County Durham

County Durham - County Durham

more info »

Paintballing for Eight in Alcester

Worcestershire - Alcester

more info »

Paintballing for Eight in Bristol

Avon - Bristol

more info »

Scuba Diving Experience for Two in Derbyshire

Derbyshire - Ilkeston

more info »

JCB Dumper Racing at Diggerland in Devon

Devon - Cullompton

more info »

Introductory Clay Pigeon Shooting in Dalry (Scotland)

Dumfries and Galloway - Dalry

more info »

Half Day Surfing in Dyfed (Wales)

Dyfed - Pembroke

more info »

12 Mile Helicopter Theme Flight for One in Dyfed (Wales)

Dyfed - St Brides

more info »

Ferrari Driving Blast with Passenger Ride in Saffron Walden

Essex - Saffron Walden

more info »

Lamborghini Driving Blast with Passenger Ride in North Weald

Multiple Locations

more info »

High Speed Passenger Ride in Fife (Scotland)

Fife - Knockhill Racing Circuit

more info »

Introductory Clay Pigeon Shooting in Fife (Scotland)

Fife - Kirkcaldy

more info »

Double Supercar Driving Blast in Glamorganshire (Wales)

Multiple Locations

more info »

Adventure Tubing and Cliff Jumping in Scotland

Lothian - Perth

more info »

30 Minute Junior Off-Road Range Rover Driving in Gloucestershire

Gloucestershire - Chavenage Estate

more info »

Helicopter Buzz Flight for One in Cheltenham

Gloucestershire - Cheltenham

more info »

Bungee Jump in Greater London

Greater London - Greenwich

more info »

Ice Climbing in Covent Garden (London)

Greater London - Westminster

more info »

Helicopter Buzz Flight for One in Gwynedd (Wales)

Gwynedd - Newport

more info »

Segway Rally for Two in Harrogate

North Yorkshire - Harrogate

more info »

Scuba Diving Experience for Two in Hertfordshire

Essex - Barking & Dagenham

more info »

JCB Dumper Racing at Diggerland in Rochester

Kent - Rochester

more info »

Windsurfing Taster Session in Gwynedd

Gwynedd - Bala

more info »

Segway Rally for Two in Cheshire

Cheshire - Knutsford

more info »

Scuba Diving Experience for Two in Lancashire

Lancashire - Preston

more info »

Junior Quad Bike Thrill in Leicestershire

Leicestershire - Oakham

more info »

Aston Martin Driving Blast with Passenger Ride - Lincolnshire

Multiple Locations

more info »

Bungee Jump at London 02 Arena

Greater London - Greenwich

(37)

more info »

Jet Ski Experience

Lincolnshire - Tattershall

more info »

Ferrari Driving Blast with Passenger Ride in Lothian (Scotland)

Multiple Locations

more info »

Ice Climbing in Manchester

Greater Manchester - Manchester

more info »

Bumblebee Experience - Camaro ZL1 Driving Blast in Hampshire

more info »

Introductory Clay Pigeon Shooting in Bristol

Avon - Bristol

more info »

Helicopter Buzz Flight for One in Lothian (Scotland)

Lothian - East Lothian

more info »

Scuba Diving Experience for Two in Norwich

Norfolk - Norwich

more info »

Half Day Kayaking in Gwynedd

Gwynedd - Bala

more info »

High Speed Passenger Ride in Rockingham

Northamptonshire - Rockingham

more info »

Double Supercar Driving Blast in Northamptonshire

Northamptonshire - Rockingham

more info »

Quad Bike Thrill in Northumberland

Northumberland - Hexham

more info »

Introductory Clay Pigeon Shooting in Northumberland

Northumberland - Hexham

more info »

Aston Martin Driving Blast with Passenger Ride in Oxfordshire

Oxfordshire - Upper Heyford

more info »

Half Day Surfing in Devon

Devon - Croyde

more info »

Segway Rally for One in Cambridgeshire

Cambridgeshire - Huntingdon

more info »

Quad Bike Thrill at Northolt

Greater London - Ealing

more info »

5 Minute Helicopter Buzz Flight For One in Berkshire

Berkshire - Maidenhead

more info »

Lamborghini Driving Blast with Passenger Ride in Oxfordshire

Oxfordshire - Upper Heyford

more info »

Helicopter Buzz Flight for One in Welshpool (Wales)

Powys - Welshpool

more info »

12 Mile Helicopter Theme Flight for One in Welshpool (Wales)

Powys - Welshpool

more info »

Segway Rally for One in Telford

more info »

Scuba Diving Experience for Two in Barnsley

South Yorkshire - Barnsley

more info »

Double Supercar Driving Blast in Staffordshire

Staffordshire - Seighford

more info »

Bungee Jump

Strathclyde - Glasgow

more info »

Segway Rally for One in Bath

Somerset - Bristol

more info »

Helicopter Buzz Flight for One in Strathclyde (Scotland)

Strathclyde - Scone

more info »

Scuba Diving Experience for Two in Ipswich

Suffolk - Ipswich

more info »

Introductory Clay Pigeon Shooting in Bury St Edmunds

Suffolk - Bury St Edmunds

more info »

Quad Bike Thrill for Two in Swansea

Glamorganshire - Swansea

more info »

High Speed Passenger Ride in Surrey

Surrey - Chertsey

more info »

30 Minute Golf Lesson with a PGA Professional in East Yorkshire

East Riding of Yorkshire - Skidby

more info »

Quad Bike Thrill for Two in Bury St Edmunds

Suffolk - Bury St Edmunds

more info »

Harness Zorbing for Two in Surrey

Surrey - Croydon

more info »

Helicopter Buzz Flight for One in Newcastle

Tyne & Wear - Newcastle

more info »

12 Mile Helicopter Theme Flight for One in Newcastle

Tyne & Wear - Newcastle

more info »

Quad Bike Thrill in Buckinghamshire

Buckinghamshire - Marlow

more info »

Bungee Jump in Warwickshire

Warwickshire - Tamworth

more info »

Double Supercar Driving Blast in Long Marston (Warwickshire)

Warwickshire - Long Marston

more info »

Quad Bike Thrill in North Yorkshire

North Yorkshire - Bedale

more info »

Segway Rally for One in West Midlands - Nr Tamworth

West Midlands - Nr Tamworth

more info »

Quad Bike Thrill in Surrey

Surrey - Redhill

more info »

12 Mile Helicopter Theme Flight for One in Wolverhampton

West Midlands - Wolverhampton

more info »

Segway Rally for One in West Sussex

West Sussex - Horsham

more info »

4x4 Off Road Driving Adventure in Reading

Berkshire - Pingewood

more info »

Basic Off Road Driving Experience in Wrexham

Clwyd - Wrexham

more info »

JCB Dumper Racing at Diggerland in Castleford

West Yorkshire - Castleford

more info »

High Speed Passenger Ride in Wiltshire

Wiltshire - Chippenham

more info »

12 Mile Helicopter Theme Flight for One in Salisbury

Wiltshire - Salisbury

more info »

4x4 Off Road Driving Adventure in Dorset

Dorset - Dorchester

more info »

Ferrari Driving Blast in Essex

Multiple Locations

more info »

Bumblebee Experience - Camaro ZL1 Driving Blast in Worcestershire

more info »

Clay Pigeon Shooting Experience in Knaresborough

North Yorkshire - Knaresborough

more info »

Aston Martin Driving Blast in Essex

Essex - Saffron Walden

more info »

Lamborghini Driving Blast in Essex

Essex - Saffron Walden

more info »

30 Minute Golf Lesson with a PGA Professional in Worcester

Worcestershire - Worcester

more info »

30 Minute Golf Lesson with a PGA Professional in Brighton

East Sussex - Brighton

more info »

Basic Off Road Driving Experience in Fife

Fife - Perth

more info »

Ferrari Driving Blast in Llandow

Multiple Locations

more info »

12 Mile Helicopter Theme Flight for One in Glasgow

Central Scotland - Glasgow

more info »

Basic Off Road Driving Experience in Swansea

Glamorganshire - Swansea

more info »

Kids Bubblemaker Scuba Experience for Two

Hertfordshire - Hertford

(1)

more info »

Lamborghini Driving Blast in Aldershot

Hampshire - Aldershot

more info »

Bungee Jump at The Lloyds Amphitheatre (Bristol)

Avon - Bristol

more info »

30 Minute Golf Lesson with a PGA Professional in Northern Ireland

County Antrim - Ballymena

more info »

Lamborghini Driving Blast in Mallory Park

Leicestershire - Mallory Park

more info »

Basic Off Road Driving Experience in Oakham

Leicestershire - Oakham

more info »

30 Minute Golf Lesson with a PGA Professional in Bedfordshire

Bedfordshire - Bedford

more info »

Quad Bike Thrill in Dorset

Dorset - Horton

more info »

Lamborghini Driving Blast in Prestwold Hall

Leicestershire - Prestwold Hall

more info »

Bumblebee Experience - Camaro ZL1 Driving Blast in Blyton

Lincolnshire - Gainsborough

more info »

30 Minute Golf Lesson with a PGA Professional in Hertfordshire

Multiple Locations

more info »

30 Minute Junior Off-Road Range Rover Driving Experience in Devon

Devon - Honiton

more info »

Ferrari Driving Blast in Blyton

Lincolnshire - Gainsborough

more info »

Ferrari Driving Blast in East Lothian

Multiple Locations

more info »

White Water Rafting Thrill in Clwyd

Clwyd - Llangollen

more info »

Quad Bike Thrill for Two in Nottingham

Nottinghamshire - Nottingham

more info »

Aston Martin Driving Blast in Elvington

North Yorkshire - Elvington

more info »

High Speed Passenger Ride in Elvington

North Yorkshire - Elvington

more info »

30 Minute Golf Lesson with a PGA Professional in Somerset

more info »

White Water Rafting Thrill in Lothian

Lothian - Perth

more info »

Ferrari Driving Blast in Selby

North Yorkshire - Selby

more info »

Aston Martin Driving Blast at Rockingham

Northamptonshire - Rockingham

more info »

Helicopter Buzz Flight for One in Glasgow

Central Scotland - Glasgow

more info »

30 Minute Golf Lesson with a PGA Professional in Cardiff

Glamorganshire - Cardiff

more info »

Lamborghini Driving Blast at Rockingham

Northamptonshire - Rockingham

more info »

Basic Off Road Driving Experience in Hexham

Northumberland - Hexham

more info »

30 Minute Golf Lesson with a PGA Professional in Shropshire

more info »

Bumblebee Experience - Camaro ZL1 Driving Blast in Abingdon

Oxfordshire - Abingdon

more info »

Outdoor Climbing Experience in Gwynedd

Gwynedd - Bala

more info »

30 Minute Golf Lesson with a PGA Professional in Buckingham

more info »

Ferrari Driving Blast in Upper Heyford

Oxfordshire - Upper Heyford

more info »

30 Minute Junior Off-Road Range Rover Driving Experience in Perthshire

Perthshire - Auchterarder

more info »

Canyoning Experience in Scotland

Lothian - Perth

more info »

Aston Martin Driving Blast in Seighford

Staffordshire - Seighford

more info »

Adult High Ropes Adventure, Norfolk

Norfolk - Kings Lynn

more info »

Lamborghini Driving Blast in Staffordshire

Staffordshire - Seighford

more info »

Scuba Diving Experience for Two in Norfolk

Norfolk - Norwich

more info »

Aston Martin Driving Blast at Long Marston

Warwickshire - Long Marston

more info »

30 Minute Golf Lesson with a PGA Professional in Wakefield

more info »

30 Minute Golf Lesson with a PGA Professional in Carlisle

more info »

Basic Off Road Driving Experience in Ferrybridge

West Yorkshire - Ferrybridge

more info »

Bubblemakers Kids Scuba Diving Experience for Two in Kent

Kent - Snodland

more info »

30 Minute Golf Lesson with a PGA Professional in Weymouth

Dorset - Weymouth

more info »

Bubblemaker Kids Scuba Experience for Two in Norfolk

Norfolk - Norwich

more info »

30 Minute Golf Lesson with a PGA Professional in Scotland

more info »

12 Mile Helicopter Theme Flight for One in Liverpool

Merseyside - Liverpool

more info »

30 Minute Golf Lesson with a PGA Professional in Norfolk

more info »

Tour of Silverstone for Two

Northamptonshire - Towcester

(150)

more info »

Helicopter Pleasure Flight and Concorde Museum Experience

Lothian - East Lothian

(2)

more info »

Helicopter Buzz Flight in Lincolnshire

Lincolnshire - Spilsby

more info »

Helicopter Buzz Flight in North Yorkshire

North Yorkshire - Beverley

more info »

Helicopter Buzz Flight for One in Buxton

Derbyshire - Buxton

more info »

5 Minute Helicopter Buzz Flight For One in Essex

Essex - North Weald Bassett

more info »

12 Mile Helicopter Theme Flight for One in Barton

Greater Manchester - Barton

more info »

5 Minute Helicopter Buzz Flight For One in Andover

Hampshire - Andover

more info »

12 Mile Helicopter Theme Flight for One in Lothian

Lothian - North Berwick

more info »

12 Mile Helicopter Theme Flight in Newcastle

Tyne & Wear - Newcastle

more info »

Helicopter Buzz Flight in Wellesbourne

Warwickshire - Wellesbourne

more info »

Adult Taster Class at Pineapple Studios

Greater London - Westminster

(2)

more info »

Mountain Biking for Two at Gorsebank

Dumfries and Galloway - Dalbeattie

more info »

Walk on The Wildside at Paradise Wildlife Park For Two

Hertfordshire - Broxbourne

(16)

more info »

London Underground Treasure Hunt for Four

Greater London - Westminster

(2)

more info »

Classic Day at the Races with Lunch in York

North Yorkshire - York

more info »

Winning Raceday Package for Two in Nottinghamshire

Nottinghamshire - Near Newark

more info »

Winning Raceday Package for Two in Doncaster

South Yorkshire - Doncaster

more info »

Classic Day at the Races with Lunch at Lingfield

Surrey - Lingfield

more info »

Winning Raceday Package for Two at Wolverhampton

West Midlands - Wolverhampton

more info »

Winning Raceday Package for Two in Worcester

Worcestershire - Worcester

more info »

Owl Encounter in Derbyshire

Derbyshire - Risley

(9)

more info »

Extended Segway Rally Anytime for One in Alexandra Palace

Greater London - Enfield

more info »

30 Minute PGA Professional Golf Lesson in Bristol

East Sussex - Hellingly

more info »

60 Minute Hawk Walk with North East Falconry

Tyne & Wear - Newcastle

more info »

Meet and Greet Llama Experience with Afternoon Cream Tea for Two

Devon - Sidmouth

more info »

Zombie Themed Weaponry Training

Nottinghamshire - Blyth

more info »
Action Adventures - Smartbox by Buyagift -

£49.99
Action Adventures - Smartbox by Buyagift -

£49.99