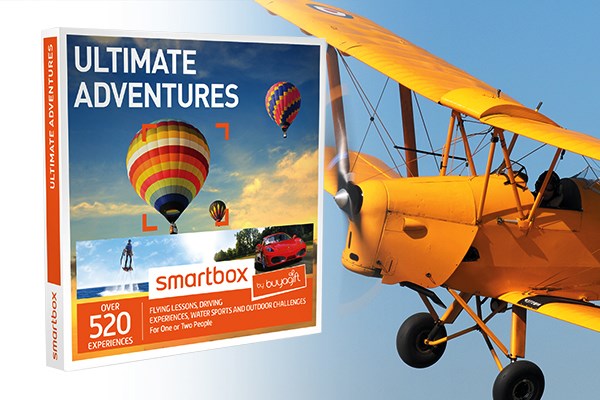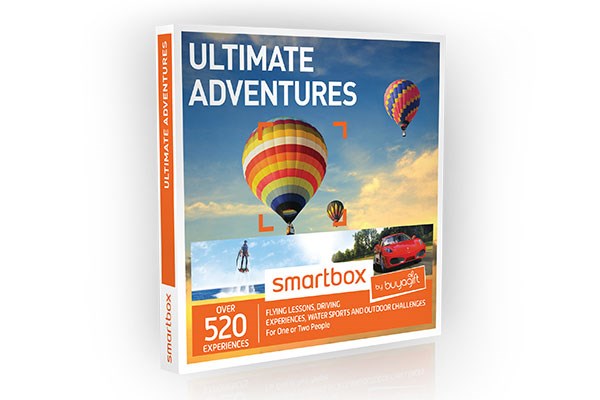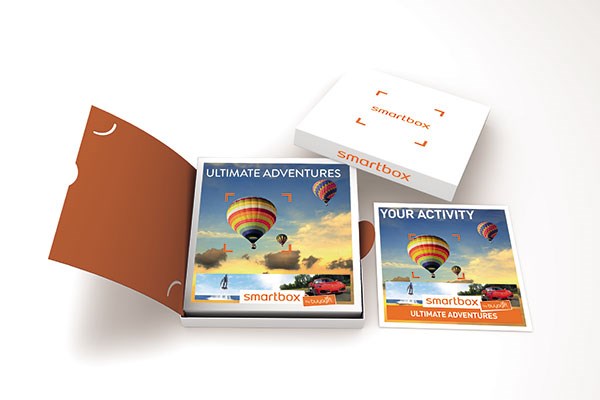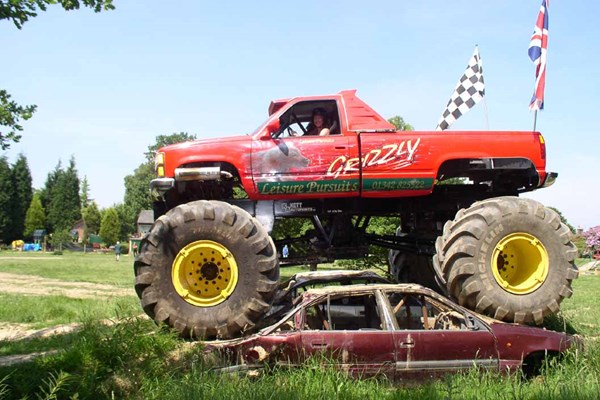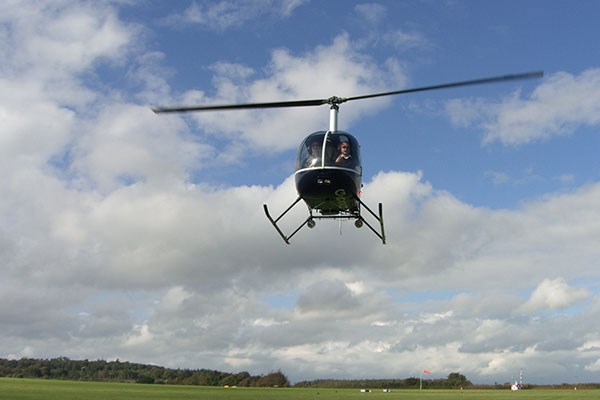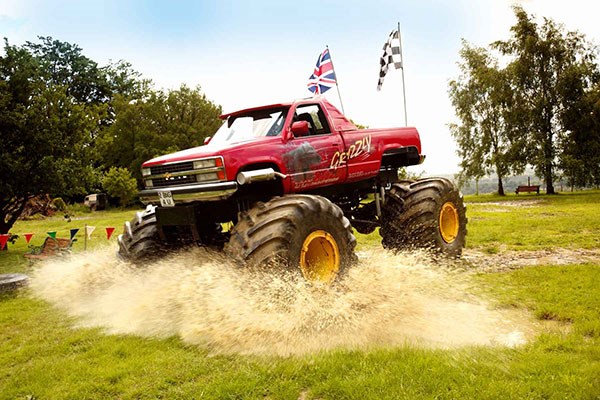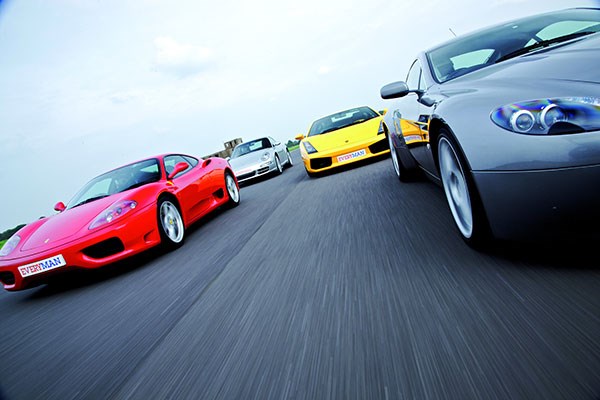 Ultimate Adventures - Smartbox by Buyagift
Product code: 10144960
4.5 out of 5 (based on 505 reviews)
Write a review »
Over 520 Experiences for One or Two People

Flying Lessons, Water Sports, Driving Days & More

Valid for 24 Months
How it works
Hundreds of experiences in every Smartbox handpicked from Buyagift's fantastic range.
Includes a beautiful presentation box with a detailed booklet of the experiences included.
Give the gift of choice allowing the recipient to book their chosen experience.
Summary
With experiences for up to four people at a range of locations throughout the UK you are sure to find exactly the thing to get your heart racing and adrenaline pumping. If you want to experience the rush of driving a 4x4 on rough off road terrain, see the world as you've never seen it before from the dizzy heights of a helicopter, put your driving skills to the test as you speed around an ice circuit in a go kart or finally achieve your dream of riding a Harley Davidson, then this ultimate adventures voucher is the one for you.
Fine Print
What's included?
This voucher includes a range of ultimate adventure experiences at a choice of locations across the UK
Any restrictions?
This voucher is valid for 24 months for up to four people
Your voucher is exchangeable
You will be able to select your chosen experience after purchasing
Exclusion dates may apply
What do I need to know?
All dates are subject to availability
Restrictions may vary depending on the chosen experience
Pre-booking is essential to avoid disappointment
Experiences available within this choice voucher
Filter Products:
Rally Driving Experience - Intro Course

North Yorkshire - Seaton Ross

(14)

more info »

Euro Spec Monster Truck Driving Experience

West Sussex - East Grinstead

(3)

more info »

Extended Off Road Driving Experience

Multiple Locations

(10)

more info »

Gliding Half Day Mini Course

Surrey - Croydon

(7)

more info »

Try a Tiger

Multiple Locations

(13)

more info »

Off Road Driving Experience - UK Wide

Multiple Locations

(6)

more info »

Microlight Flight 60 minutes - UK Wide

Multiple Locations

(14)

more info »

Helicopter Flight Experience

Multiple Locations

(16)

more info »

Aerobatic Flight

Multiple Locations

(14)

more info »

Dambusters Helicopter Tour

Derbyshire - Buxton

(5)

more info »

Emmerdale and York Helicopter Tour

North Yorkshire - Elvington

(2)

more info »

Extended Waterskiing

Buckinghamshire - Milton Keynes

(2)

more info »

Hands On Full Sailing Day for One

Hampshire - Southampton

(8)

more info »

Introduction to Powerkite Sports

Multiple Locations

(3)

more info »

Solent Sailing Experience

Hampshire - Hamble

(3)

more info »

Skid Control Experience

Multiple Locations

(5)

more info »

Hovercraft Flying for Two

Multiple Locations

(16)

more info »

One on One 4x4 Driving Experience

North Yorkshire - Thirsk

(4)

more info »

Introduction to Windsurfing for Two in Maidenhead (Half Day)

Berkshire - Maidenhead

more info »

60 Minute Microlight Flight in Wiltshire

Wiltshire - Swindon

(2)

more info »

60 Minute Microlight Flight For One

Multiple Locations

(6)

more info »

Aerobatic Flight in Essex

Essex - Havering

(6)

more info »

Start Windsurfing for One in Berkshire (Two-Day Course)

Berkshire - Horton

more info »

Introduction to Landboarding in Dorset

Dorset - Portland

more info »

Introduction to Kitebuggying in Dorset

Dorset - Portland

(1)

more info »

Kitesurfing Taster in Dorset

Dorset - Portland

more info »

Full Day Adventure RIB Experience

Hampshire - Portsmouth

(1)

more info »

Helicopter Sightseeing Tour for One (UK Wide)

Multiple Locations

(2)

more info »

60 Minute Flight Simulator Experience

Central London - Hammersmith Fulham

(7)

more info »

Helicopter Ride Over London for One

Multiple Locations

(14)

more info »

Sporting Trials Driving Experience

Kent - West Malling

more info »

30 Minute Spires of Oxford Helicopter Tour

Oxfordshire - Bicester

more info »

30 Minute Severn Valley and Ironbridge Helicopter Tour

Staffordshire - Bobbington

more info »

30 Minute Cornish Peninsular Helicopter Tour

Cornwall - St Ives

more info »

30 Minute Lake District Helicopter Tour

Cumbria - Carnforth

(3)

more info »

Two Hour Off Road Driving Experience in Kent

Kent - Ashford

(2)

more info »

One-to-One Half Day Off Road Driving Experience in Kent

Kent - Ashford

more info »

Adrenaline Junkie Tandem Paragliding Flight

Shropshire - Bishops Castle

more info »

Insight to Becoming a Helicopter Pilot

Multiple Locations

(0)

more info »

Full Day Sailing Experience with Lunch in Ipswich

Suffolk - Rendlesham

more info »

60 Minute Flying Lesson in Nottinghamshire

Nottinghamshire - Retford

(14)

more info »

Drive and Ride Sunseeker Experience

Hampshire - Southampton

(2)

more info »

25-35 Minute Extended Helicopter Pleasure Flight

Multiple Locations

(4)

more info »

Racing Car Driving Experience at Thruxton

Hampshire - Andover

(7)

more info »

Silver Drifting Experience

Hertfordshire - Hemel Hempstead

(17)

more info »

One to One Hovercraft Flying

Leicestershire - Lutterworth

(4)

more info »

60 Minute Flight Simulator Experience

Northamptonshire - Sywell

(1)

more info »

The Big One - Monster Truck Driving Experience

West Sussex - East Grinstead

(17)

more info »

Supercar and Truck Driving Experience

Multiple Locations

(8)

more info »

Extended 4x4 Driving Experience at Brands Hatch

Kent - Brands Hatch

(7)

more info »

Extended 4x4 Driving Experience at Oulton Park

Cheshire - Oulton Park

(4)

more info »

10 Minute Helicopter Flight for Two

Multiple Locations

(21)

more info »

Five Supercar Driving Blast

Multiple Locations

more info »

Beginner's Tandem Skydive in Devon

Devon - Honiton

(26)

more info »

The Asylum Horror Experience

Worcestershire - Droitwich

more info »

Land Away Double Flying Lesson

Multiple Locations

(43)

more info »

Ocean Yacht Racing Day

Hampshire - Hamble

(4)

more info »

The Yorkshire Three Peaks Weekend Challenge

North Yorkshire - Settle

(2)

more info »

Ben Nevis Challenge Weekend

Scottish Highlands - Fort William

(1)

more info »

Beginner's Tandem Skydive in Wales

Glamorganshire - Swansea

(7)

more info »

One to One Flyboarding in London

Greater London - Newham

(38)

more info »

Evening Champagne Balloon Flight

Multiple Locations

(1)

more info »

Midweek Champagne Balloon Flight For One

Multiple Locations

more info »

Jaguar E Type and Aston Martin Driving Thrill

Oxfordshire - Upper Heyford

(8)

more info »

Jaguar E Type and Austin Healey Driving Thrill

Oxfordshire - Upper Heyford

(1)

more info »

007 Powerboat Adventure Day for Two

Hampshire - Southampton

more info »

Extreme RIB and Luxury Cruiser Experience for Two

Hampshire - Southampton

more info »

2 Hour Flight Simulator Experience

Bedfordshire - Leighton Buzzard

(11)

more info »

60 Minute Flight Simulator Experience

West Midlands - Leamington Spa

(1)

more info »

Ferrari 458 Driving Thrill with Passenger Ride

Multiple Locations

more info »

30 Minute Flying Lesson and 30 Minute Flight Simulator

Essex - Havering

more info »

Escort RS2000 and Impreza WRX Gravel Rally Driving Experience for One

Oxfordshire - Bicester

more info »

Deluxe Yamaha Viking Experience

Kent - Ashford

more info »

Three Hour Pillion Experience on a Classic Harley Davidson Motorcyle

Hampshire - Alton

(4)

more info »

Radical Driving Thrill

Northamptonshire - Silverstone

more info »

Mini Tank Driving Experience

Hampshire - Eversley

more info »

Triple Extreme Rally Driving Experience 30 Laps

Essex - Saffron Walden

more info »

Karting on Ice for Four

Multiple Locations

more info »

Ultimate Lamborghini Driving Thrill with Passenger Ride

Leicestershire - Prestwold Hall

more info »

Ultimate Lamborghini Driving Thrill with Passenger Ride

North Yorkshire - Elvington

more info »

Ultimate Lamborghini Driving Thrill with Passenger Ride

Surrey - Cranleigh

more info »

Karting on Ice for Four in London

Greater London - Enfield

more info »

Extended Off Road Driving Experience in Northolt

Greater London - Ealing

more info »

Four Supercar Driving Blast

Derbyshire - Derby

more info »

Midweek Champagne Balloon Flight For One

Derbyshire - Nr Ashbourne

more info »

Double Supercar Driving Thrill (Week-round)

Leicestershire - Bruntingthorpe

more info »

Hovercraft Flying for Two

Leicestershire - Lutterworth

more info »

Five Supercar Driving Blast

Leicestershire - Mallory Park

more info »

Extended Off Road Driving Experience in Oakham

Leicestershire - Oakham

more info »

Supercar Driving Blast and Segway Rally for Two

Leicestershire - Prestwold Hall

more info »

Platinum Plus Thrill - McLaren 650S Spider

Leicestershire - Prestwold Hall

more info »

Supercar and Truck Driving Experience

Lincolnshire - Blyton Park

more info »

Five Supercar Driving Blast

Multiple Locations

more info »

Ferrari 458 Driving Thrill with Passenger Ride

Lincolnshire - Gainsborough

more info »

10 Minute Helicopter Flight for Two

Lincolnshire - Spilsby

more info »

Ultimate Mitsubishi Supercar Driving Experience

Lincolnshire - Stragglethorpe

more info »

60 Minute Extended Flying Lesson - UK Wide

Northamptonshire - Brackley

more info »

Five Supercar Driving Blast

Northamptonshire - Rockingham

more info »

Insight to Becoming a Helicopter Pilot

Nottinghamshire - Nottingham

more info »

60 Minute Extended Flying Lesson - UK Wide

Nottinghamshire - NOTTS

more info »

Hovercraft Flying for Two

Shropshire - Oswestry

more info »

Midweek Champagne Balloon Flight For One

Shropshire - Whitchurch

more info »

Single Seater Experience - UK Wide

Staffordshire - Lichfield

more info »

Rally Driving Experience - UK Wide

Staffordshire - Seighford

more info »

Five Supercar Driving Blast

Staffordshire - Seighford

more info »

Ferrari 458 Driving Thrill with Passenger Ride

Warwickshire - Kenilworth

more info »

Five Supercar Driving Blast

Warwickshire - Long Marston

more info »

Supercar Driving Blast and Segway Rally for Two

Warwickshire - Long Marston

more info »

Ferrari 458 Driving Thrill with Passenger Ride

Warwickshire - Nuneaton

more info »

25-35 Minute Extended Helicopter Pleasure Flight

Multiple Locations

more info »

Aerobatic Flight

West Midlands - Coventry

more info »

Land Away Double Flying Lesson

West Midlands - Coventry

more info »

25-35 Minute Extended Helicopter Pleasure Flight

West Midlands - Wolverhampton

more info »

Extended Off Road Driving Experience in Crewe

Cheshire - Crewe

more info »

Extended Off Road Driving Experience in Penrith

Cumbria - Penrith

more info »

25-35 Minute Extended Helicopter Pleasure Flight

Greater Manchester - Eccles

more info »

Insight to Becoming a Helicopter Pilot

Greater Manchester - Manchester

more info »

Land Away Double Flying Lesson

Lancashire - Blackpool

more info »

Land Away Double Flying Lesson

North Yorkshire - Beverley

more info »

Five Supercar Driving Blast

North Yorkshire - Elvington

more info »

Supercar Driving Blast and Segway Rally for Two

North Yorkshire - Elvington

more info »

Platinum Plus Thrill - McLaren 650S Spider

North Yorkshire - Elvington

more info »

Five Supercar Driving Blast

North Yorkshire - Selby

more info »

Mitsubishi Supercar Duo Driving Experience

North Yorkshire - York

more info »

60 Minute Extended Flying Lesson - UK Wide

Northumberland - Felton

more info »

Helicopter Sightseeing Tour for One in Sheffield

South Yorkshire - Sheffield

more info »

25-35 Minute Extended Helicopter Pleasure Flight

Tyne & Wear - Newcastle

more info »

Mitsubishi Supercar Duo Driving Experience

West Yorkshire - Bradford

more info »

Extended Off Road Driving Experience in Ferrybridge

West Yorkshire - Ferrybridge

more info »

Rally Driving Experience - UK Wide

County Antrim - Crumlin

more info »

Off Road Driving Experience in Tyrone

Tyrone - Bally Gawley

more info »

Insight to Becoming a Helicopter Pilot

Central Scotland - Glasgow

more info »

25-35 Minute Extended Helicopter Pleasure Flight

Central Scotland - Glasgow

more info »

Extended Off Road Driving Experience in Edinburgh

East Lothian - Near Edinburgh

more info »

Skid Control Experience

Fife - Knockhill Racing Circuit

more info »

Five Supercar Driving Blast

Multiple Locations

more info »

Microlight Flight 60 minutes in Lothian

Lothian - North Berwick

more info »

Land Away Double Flying Lesson

Bedfordshire - Henlow

more info »

Helicopter Ride Over London for One

Buckinghamshire - Hillingdon

more info »

60 Minute Extended Flying Lesson - UK Wide

Buckinghamshire - Marlow

more info »

Try a Tiger

Cambridgeshire - Duxford

more info »

Microlight Flight 60 minutes in Sandown

Cambridgeshire - Ely

more info »

Five Supercar Driving Blast

Multiple Locations

more info »

Five Supercar Driving Blast

Essex - Saffron Walden

more info »

Ferrari 458 Driving Thrill with Passenger Ride

Essex - Saffron Walden

more info »

Five Supercar Driving Blast

Hampshire - Aldershot

more info »

Ferrari 458 Driving Thrill with Passenger Ride

Hampshire - Aldershot

more info »

Harley Davidson Passenger Ride in Hampshire

Hampshire - Alton

more info »

Extended Off Road Driving Experience in Andover

Hampshire - Andover

more info »

Land Away Double Flying Lesson

Hertfordshire - Elstree

more info »

Platinum Plus Thrill - McLaren 650S Spider

Kent - Canterbury

more info »

Microlight Flight 60 minutes in Kent

Kent - Headcorn

more info »

Supercar and Truck Driving Experience

Surrey - Chertsey

more info »

Ferrari 458 Driving Thrill with Passenger Ride

Surrey - Cranleigh

more info »

Platinum Plus Thrill - McLaren 650S Spider

Surrey - Cranleigh

more info »

Karting on Ice for Four in Guildford

Surrey - Guildford

more info »

Off Road Driving Experience in Surrey

Multiple Locations

more info »

Try a Tiger

Surrey - Redhill

more info »

25-35 Minute Extended Helicopter Pleasure Flight

Berkshire - Maidenhead

more info »

Off Road Driving Experience in Berkshire

Berkshire - Pingewood

more info »

Try a Tiger

Devon - Honiton

more info »

Introduction to Powerkite Sports in Dorset

Dorset - Portland

more info »

Try a Tiger

Gloucestershire - Cheltenham

more info »

Aerobatic Flight

Gloucestershire - Cheltenham

more info »

Land Away Double Flying Lesson

Gloucestershire - Cheltenham

more info »

Rally Driving Experience - UK Wide

Multiple Locations

more info »

Karting on Ice for Four in Oxford

Oxfordshire - Oxford

more info »

Five Supercar Driving Blast

Oxfordshire - Upper Heyford

more info »

Extended Off Road Driving Experience in Chippenham

Wiltshire - Chippenham

more info »

Skid Control Experience

Wiltshire - Chippenham

more info »

Single Seater Experience - UK Wide

Wiltshire - Chippenham

more info »

Introduction to Powerkite Sports in Dyfed

Dyfed - Pembrokeshire

more info »

Five Supercar Driving Blast

Multiple Locations

more info »

25-35 Minute Extended Helicopter Pleasure Flight

Powys - Welshpool

more info »

Helicopter Flight Experience

Leicestershire - Leicester

more info »

Single Seater Experience - UK Wide

Fife - Knockhill Racing Circuit

more info »

Single Seater Experience - UK Wide

County Down - Kircubbin

more info »

60 Minute Extended Flying Lesson - UK Wide

Glamorganshire - Cardiff

more info »

Single Seater Experience - UK Wide

Multiple Locations

more info »

Rally Silver Experience

Leicestershire - Prestwold Hall

more info »

Ferrari 458 Driving Thrill with Passenger Ride

Multiple Locations

more info »

Platinum Plus Thrill - McLaren 570S

Multiple Locations

more info »

Double Supercar Driving Thrill (Week-round)

Multiple Locations

more info »

Monster Truck and Rally Kart Experience

West Sussex - East Grinstead

more info »
Ultimate Adventures - Smartbox by Buyagift -

£159.99
Ultimate Adventures - Smartbox by Buyagift -

£159.99