Summary

Fine Print

View on map
For any gunners fan a trip around the world famous home of Arsenal would be a fantastic day out. So add a true club legend into the mix and you have got one very happy fan! Your legend will meet you at the main entrance and take you on a fascinating trip behind the scenes of this state of the art arena. You'll visit the conference room, the scene of some historic tussles with journalists over the years, and then move onto the players' changing rooms where you can soak up the real match day atmosphere. Your legend will reminisce about their time at the club with captivating tales from yesteryear. It's then onto the players' tunnel and out onto the hallowed turf, giving you a player's-eye view of what it's like to walk out on match day. When the tour is complete, your legend will drop you off at the fantastic Arsenal museum, full of interactive exhibits and memorabilia from the club's illustrious history. You will find out which legend will be conducting the tour when you book, with the likes of Charlie George, John Radford and Perry Groves amongst those currently playing tour guide!
An engrossing backstage tour of the Emirates stadium conducted by a true club legend
Entrance to the state of the art, interactive Arsenal Museum to browse at your leisure
A personalised certificate each
Any restrictions?
Your voucher is valid for six months for one person
Tours will run Monday - Sunday
Tour operating times are: Mon – Sat 9:30am-6pm (last entry 5pm) Sunday 10am-4pm (last entry 3pm)
Please note that Lee Dixon is no longer available for the legends tour
What do I need to know?
All dates are subject to availability
Tours have self guided audio tours
Adult Legends Tour of Emirates Stadium -

£40
Customer Reviews
8 out of 8 (100%) reviewers would recommend this product to a friend.
Read all reviews »
Legend
23 May 2016
Rambo
Location: London Age: 35-44 Bought For Friend Occasion: Just because!
Well organised, Nigel Winterburn captivated the audience the whole time and the Question&Answer session was very informative and honest.
Would you recommend this product to a friend? Yes
A very happy Dad and Son
07 March 2015
Lashes
Location: London Age: 45-54 Bought For Myself Occasion: Christmas
Fantastic time with the added bonus of meeting Charlie George who was a real legend to meet. My husband and son said it was a great experience.
What would you improve for next time? Nothing it was a great day out!
Would you recommend this product to a friend? Yes
Where are the Trophies
23 June 2014
boxhave
Location: Walton on Thames Age: 25-34 Bought For Partner Occasion: Christmas
First of all Charlie George was awesome showing us around. Very friendly, approachable, talkative and I could not imagine anyone else giving the tour. He took his time, shared jokes, insight into the current squad without giving secrets away, shared his experience and took time out to give everyone an opportunity with him, so just because of him, I think the tour was extra special. Secondly after the tour, you could revisit anywhere you had been before in case you feel you missed anything, as we were in a group during Charlie's walk around, but once that's finished, you could go back which I did. Thirdly, i have done other stadium tours, notably Nou Camp and they did not show us the Home dressing room which Arsenal did, so again that made my day, as I was able to sit where my beloved Arsenal players sit and contemplate the task ahead, and it is an amazing shower and dressing room etc, so very special indeed. Only drawback was the fact that the trophies were not all displayed in one area similar to Barcelona's (some may laugh and say that's because Arsenal has less), either way, trophies were scattered in cabinets in areas coned off to us which was disappointing. I was also hoping to catch the 2014 FA cup, hence why I waited so long before going but there was no site of that. On the plus side, you got a free pass into the museum which gives a good history of the Gunners. I rated this 4 out of five because as an Arsenal fan a three would not do Charlie justice, however a five would be too much due to lack of trophies on display, and seriously I would have expected a similar layout of museum and trophies room to Nou Camp due to the stadium size, it being a new stadium, with a dedicated space for this, but you get the feel that Arsenal had forgotten about this important element and found a last minute area to put these things.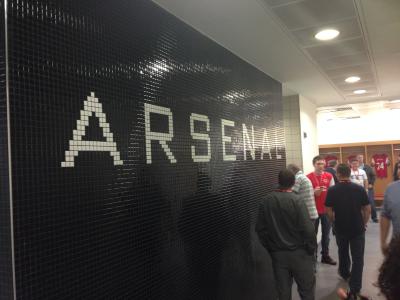 What would you improve for next time? The museum space did feel cramped, and the entrance reminded me of going underground into a pool hall, so I hope when I visit again with my kids in the future, they would have addressed this along with the trophies being placed in the museum so everything is in one place.
Would you recommend this product to a friend? Yes
Legendary Gift
05 February 2012
Spanner
Location: London Age: 55-64 Bought For Daughter Occasion: Christmas
In the incomparable surroundings of the Emirates Stadium, Arsenal legends - such as Lee Dixon - provide an in-depth, amusing insight into what goes on behind the scenes in a top premiership football team. Sit in the manager's seat, visit the first team's dressing room, enjoy the luxury trimmings of the Directors' Lounge, walk the players' tunnel and hear great stories from Lee Dixon about his antics with fellow Arsenal legends such as Ian Wright, Martin Keown and Tony Adams. Also not to be missed are Lee's thought-provoking analysis of Arsenal's management style, board strategy and the team's chances of retaining Champions League status in the next season. Hugely enjoyable, a 6-star recommendation.
Would you recommend this product to a friend? Yes
Made his day
16 September 2011
Rosylea
Location: Verwood near Bournemouth Age: 55-64 Bought For Myself Occasion: Christmas
Husband absolutely loved his Legends Tour of Arsenal. Went round with one of his idols, Kenny Samson and didn't shut up about it for the rst of the day! Would reccomend this for any football nut.Definitely value for money.
Would you recommend this product to a friend? Yes
FAB FAB FAB
21 April 2011
Jimbo
Location: Glasgow Age: Under 18 Bought For Sister Occasion: Christmas
Fantastic day out and the Legend part of it made it all the more special.
Would you recommend this product to a friend? Yes
16 November 2010
Dan Gosling
Location: Age: 25-34 Bought For Partner Occasion: Christmas
What a great Birthday present. Being a big Arsenal fan I couldnt help but smile when my girlfriend bought me a Legends tour of the Emirates Stadium. On the day we went the tour was conducted by Arsenal legend Charlie George who showed us around a variety of areas inside the stadium including the tunnel changing rooms directors box and the museum. A highly recommended buy for any Gunners fan.
Would you recommend this product to a friend? Yes
16 November 2010
Alan Scott
Location: Age: 25-34 Bought For Myself Occasion: Just because!
The Legends Tour is a great Idea really makes the Arsenal tour stand out from most standard stadium tours. They've got some great anecdotes about the 'old days' and ist nice to see the mix of old and new as it were. The stadium itself is just incredible the thought that has gone into the detail there is unbelievable needs to be seen to be believed!
Would you recommend this product to a friend? Yes
Adult Legends Tour of Emirates Stadium -

£40