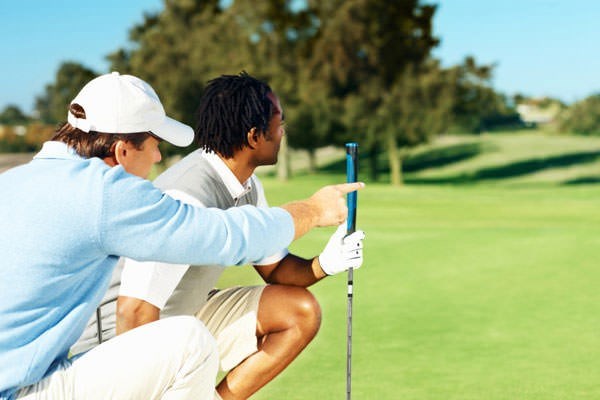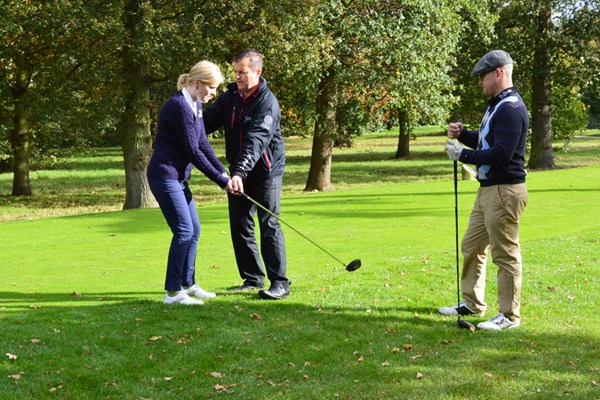 Summary

Fine Print

View on map
If you've ever wanted to be coached by a professional, here is your chance! Play a full nine holes with a PGA professional who will guide you through each stroke, helping you improve your game like never before. From improving the accuracy and distance of your tee shot all the way to the green, where they will pass on expert tips on how to tap that ball the final few yards. You'll see a steady improvement as you move from hole to hole during this 90 minute lesson, as the pro demonstrates their skills to you as well as keeping a close eye on your shots. With over 100 courses to choose from, this is the perfect treat for any golfing enthusiast!

What's included?
A 90 minute, nine hole golf lesson with a full PGA Professional and a £5 off your next lesson which must be booked at the time of your voucher lesson in order to qualify
Any restrictions?
Your voucher is valid for 10 months for one person
All courses will have a golf appropriate dress code that you will be required to adhere to
You must be over 8 years old to participate
What do I need to know?
Locations are subject to change so please check with the operator upon booking
All dates are subject to availability
This experience is available at 100 locations.
All Regions:
Nine Hole Playing Lesson with a PGA Professional -

£135
Customer Reviews
9 out of 9 (100%) reviewers would recommend this product to a friend.
Read all reviews »
Golf lesson
09 February 2017
Scampy
Location: Birmingham Age: Over 65 Bought For Daughter Occasion: Birthday
Received gift from daughter. When I found a golf club close enough and actually participated in the scheme it all was very simple to arrange. The experience was second to none. The golf professional was first class and even improved my golf by a couple of shots. Pretty good for a couple of hours tuition. Excellent!!
What would you improve for next time? Improve method for finding participating golf clubs.
Would you recommend this product to a friend? Yes
Fantastic day
27 September 2016
Thorny
Location: Essex Age: 55-64 Bought For Wife Occasion: Christmas
Duncan the PGA pro at Gorleston GC was very freindly and gave me loads of advice. Would definitly recommend day out. I am a 24 handicapper and look forward to lowering that on the back of this day
What would you improve for next time? Nothing all good
Would you recommend this product to a friend? Yes
I want more
09 May 2016
sjcook64
Location: South West London Age: 25-34 Bought For Wife Occasion: Birthday
Laura, my wonderful finance bought me the gift of a golf lesson and nine holes with a pro. I can't believe I waited so long to use it and want to go back again to immediately and get practicing. Super easy to do and the club (venue) were great! I shall be bookmarking a page for BAG.co.uk!
What would you improve for next time? I would have sent me a reminder to use my gift!!!
Would you recommend this product to a friend? Yes
Very enjoyable experience
30 September 2015
Pudgy
Location: Surrey Age: 45-54 Bought For Mum Occasion: Birthday
Mathew was the pro that I had my playing lesson with. I was amazed at the improvements that I made in one lesson, the sort of teaching that the driving range can't give you. Will definitely do this again. Thank you.
What would you improve for next time? Nothing, even the weather was perfect!
Would you recommend this product to a friend? Yes
Very interesting
10 April 2015
Kevin
Location: Berkshire Age: 35-44 Bought For Friend Occasion: Just because!
Learnt an awful lot and enjoyed it -one tip I never knew. What do Pro's think about between shots and the answer NEVER GOLF.
Would you recommend this product to a friend? Yes
Excellent way to improve your golf
25 October 2014
JimD
Location: Kent Age: 55-64 Bought For Son Occasion: Birthday
Being a poor golfer I was a little unsure whether 9 holes with a pro would be beyond my skills.. Fortunately, Iain, the pro at Nizels Golf club in Kent, has such an easy going and unique teaching style that I quickly relaxed and thoroughly enjoyed the experience. Just as important my golf has dramatically improved.
What would you improve for next time? A brief lesson in the driving range before the 9 holes.
Would you recommend this product to a friend? Yes
excellent experience for a beginner like me
25 September 2014
vzzbukx
Location: london Age: 25-34 Bought For Partner Occasion: Christmas
Having read a review on here about Richmond golf club and one of their pros Matt, i booked the same experience as it was my closest course. I am a terrible golf player who has played 50 odd times but call myself a beginner as I've never been coached and don't hit the ball straight. Rather than play 9 holes I suggested we spent the time on the driving range to get the most out of the time. The instructor was very good at explaining simple grip, swing and movement suggestions and within 20 minutes I was hitting the ball further and straighter than ever. I don't think I've ever hit a golf ball properly until this lesson, its an addictive feeling when you connect properly and an iron shot lands 250 yards away. I didn't think I would make this kind of progress in 1 lesson let alone in 20 minutes. Now I'm hitting the ball properly I can practise being more accurate in my own time. Rather than wholesale changes to my game his suggestions were subtle and immediately effective, and explaining the changes in the order he did meant it was easy to replicate using a mental checklist while you settle to take your swing. The lesson ended up being over 2.5 hours and worked on irons, woods, driver, short and medium play. I would recommend this to anyone of any level who wants to become better at golf, the results are so fast with a pro.
Would you recommend this product to a friend? Yes
Very Beneficial
29 August 2014
Adrian
Location: Surrey Age: 35-44 Bought For Wife Occasion: Birthday
I chose the Richmond Golf Club for my lesson and it turned out to be really good. My instructor Matt reviewed my stroke on the driving range and suggested we spend our time there instead of playing 9 holes as it would prove more beneficial. He spent three and half hours providing guidance on my swing action and also covered chipping with me. I left feeling pretty drained from the lesson which is a very good thing. I left with very tangible results and a lot of practice ahead of me! Would highly recommend to anyone. I was keen to return to the course to try out my new skills but the course green fees are a ridiculous £80 for visitors!! There are much better courses in Surrey for less than half that price.
What would you improve for next time? I would suggest a one hour training session on the driving range followed by 9 holes on the course.
Would you recommend this product to a friend? Yes
9 Hole golf with a pro
03 August 2012
Daz
Location: Ipswich, Suffolk Age: 25-34 Bought For Relative Occasion: Birthday
Awsome day, after only playing a few times I was very nervous about this, but the pro was amazing putting me at ease and helping improving my swing and game.
Would you recommend this product to a friend? Yes
Nine Hole Playing Lesson with a PGA Professional -

£135