Summary

Fine Print

View on map
For anyone who has ever wanted to ride in a helicopter, this fantastic package is a dream come true. When you arrive at one of several available locations across the UK, you will be greeted by your pilot who will go through a short safety briefing. You'll then get the chance to have your photo taken with the helicopter before boarding to begin your tour. Your pilot will take you up to 1500ft whilst he points out local landmarks for some great pictures, but you won't be taking note once he gets into the full swing of things. You will experience the thrill of flight as the pilot puts on a show for 12 exhilarating miles.

What's included?
A 12 mile helicopter theme ride, lasting approximately 8 minutes
Any restrictions?
Your voucher is valid for 10 months for one person
Flight sessions run on selected Sat & Sundays April - October only
You must check weather on the day prior to setting off for your flight. Flights are subject to cancellation due to weather & operational issues
Please note that the Cornwall location is available 28th July - 8th August only
Please note this experience is available on Saturdays and Sundays at the Wellesbourne, Silverstone, Thruxton, Fairoaks, Gloucester, Manchester and Cumbernauld locations.
The minimum age for this experience is 6 years – anyone under 12 must be accompanied by an adult
The maximum height is 6ft 6
The maximum weight is 18 stone, please mention upon booking if you are over 15 stone

What do I need to know?
The experience lasts around 1 - 1.5 hours in total, with approximately 8 minutes in the helicopter
On the day of your experience you are required to present some photo ID and proof of address; this is for security reasons
Vouchers are valid for Rear Seats Only. The Helicopter will typically have 3 rear seats with an option to upgrade to a 4th co-pilot seat from £10 on the day (subject to availability)
All dates are subject to availability
If you have any health concerns which you think may prevent you from using this experience, please consult your GP prior to purchasing
Please book well in advance to avoid dissapointment

This experience is available at 31 locations.
All Regions:
12 Mile Helicopter Theme Flight for One -

£59
Customer Reviews
43 out of 49 (88%) reviewers would recommend this product to a friend.
Read all reviews »
birtday gift
17 April 2017
Soyab
Location: Age: 35-44 Occasion: Birthday
i bought it for hubby's 40th bday. he loved it kids enjoy it too... now kids wants to do it too.......
Would you recommend this product to a friend? Yes
Excelent View
10 February 2017
nighk92
Location: Age: 25-34 Bought For Myself Occasion: Just because!
Very good, well organised, and loved the view of the area.
Would you recommend this product to a friend? Yes
Helicopter flight!
21 May 2016
VickiS
Location: Cumbernauld, Lanarkshire Age: 25-34 Bought For Myself Occasion: Other occasion
Brilliant experience and would definitely recommend. Staff were very friendly too!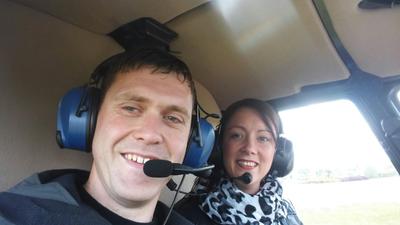 What would you improve for next time? Nothing
Would you recommend this product to a friend? Yes
A real Thrill
18 May 2016
BarrieG
Location: Barton Airfield Age: Over 65 Bought For Wife Occasion: Birthday
I really enjoyed my flight in your helicopter.We bought our ticket we selected a date we turned up at our local airfield and then we were off after 25 minutes wait. The helicopter was piloted by a very friendly lad who made us all feel at home.We went up to 1000 feet and were travelling at 150mph.We flew down the river irwell and around old trafford the Manchester United Arena.We were encouraged to take photos and really enjoyed the trip. We flew back to Barton Airfield and enjoyed the blast of wind generated by the copter as it slowed down. A real Thrill
What would you improve for next time? I would pay a bit extra and travel in the front
Would you recommend this product to a friend? Yes
21 mile helicopter flight.
18 May 2016
Juser
Location: I myself love fast cars ,flying, adventure,etc Age: 45-54 Bought For Dad Occasion: Birthday
I bought the gift as part of a 18 birthday present for my eldest daughter ,as she had never been in a helicopter, and it was worth every penny to hear her say how much she enjoyed the experience but it wasn't long enough ,thinking of doing it again but for longer,but yes she thaught it was great thanks.
What would you improve for next time? Nothing service was great had good time.
Would you recommend this product to a friend? Yes
Much apreciated gift,
16 April 2016
6r4paul
Location: Nottingham Age: 55-64 Bought For Daughter Occasion: Christmas
Brilliant experience, always wanted to go in a helicopter, so the family bought me the ride, I will return for another flight,
What would you improve for next time? Pay for the longer flight
Would you recommend this product to a friend? Yes
Best Gift Ever
20 October 2015
Redman
Location: Silverstone Age: 35-44 Bought For Myself Occasion: Birthday
I bought this for my 13 year old daughter for her birthday. She absolutely loved it. She flew from Silverstone. It was really easy to arrange a time for the following weekend. Her only complaint was that it seemed to go very quickly!
What would you improve for next time? Nothing
Would you recommend this product to a friend? Yes
My birthday treat from my princess
19 October 2015
Prince
Location: Preston Age: 45-54 Bought For Wife Occasion: Birthday
I loved my 12 mile hellecopter ride over Manchester area and the view over the new coronation Street set which was lovely and the flight was all it was expected to be.only down side I wanted to sit next to the pilot but not available think should be offered before when booked so can pay extra before hand and the thrill ride was not available even though advertised.but for price realy enjoyed it thank you
What would you improve for next time? Able to book next to pilot in advance and to be offered thrill ride like advertised which wasn't available at all in Manchester but email said to pay at venue
Would you recommend this product to a friend? Yes
Okay but cheaper if you buy with supplier instead
18 October 2015
Princess
Location: Manchester Age: 18-24 Bought For Partner Occasion: Birthday
On offer for 59 on buy a gift as it stated original price £99 however at the suppliers it was £50, was sat in the middle therefore didn't see much was just a 6 minute ride of no sights
What would you improve for next time? Sort the prices out and no point going if sat in middle should be able to choose seat
Would you recommend this product to a friend? No
Could have gone faster
11 October 2015
Posh
Location: Gloucester Age: 35-44 Bought For Friend Occasion: Birthday
Seemed to hover a little too much, this would have been ok if the pilot did a sightseeing speech but the whole trip was in silence
What would you improve for next time? Pilot to provide some highlights if where we were
Would you recommend this product to a friend? Yes
12 Mile Helicopter Theme Flight for One -

£59