Summary

Fine Print

View on map
It was 1943, the outcome of the Second World War was hanging in the balance, Britain desperately needed to deliver a critical blow to Nazi Germany's industrial heartland, Operation Chastise was born. Operation Chastise (widely known as the Dambuster's Raid) was the daring sortie to attack the heavily defended Ruhr dams, led by Guy Gibson 19 AVRO Lancaster bombers of 617 Squadron took off from RAF Scampton carrying Barnes Wallis' famous bouncing bomb. Flying at just 60ft they had three targets, the Mohne, the Sorpe and the Eder dams. This amazing helicopter tour will take you through the very routes that those 19 crews used in their training for this incredible mission. Flying through the stunning beauty of the Peak District, over the historical splendour of Chatsworth House and past the magnificent Mam Tor rock formations you will be astounded at the sights all around you. Then you will reach the Derwent Valley and Lady Bower Dam, where those brave crews practised and practised and practised in order that their vital mission might be successful. With your pilot pointing out landmarks and points of interest as well as giving you some of the history about the raids this promises to be a flight to remember.
What's included?
Introduction and safety briefing with a fully qualified pilot
Approx 30 minute Helicopter tour of the Dambusters training flight route
Any restrictions?
Your voucher is valid for 10 months for one person
This experience is available on selected dates, March-November
Pre-booking is essential
Max. weight 114Kg/18st
Minimum age is 6 years
Flights are weather dependant
All dates are subject to availability
What do I need to know?
Helicopter will be a Bell 206 Jet Ranger or similar
If your flight is cancelled due to extreme weather, your experience will be rebooked
You will be allowed to take photo's and videos from the aircraft
There may be other participants on the experience with you
Dambusters Helicopter Tour -

£149
Customer Reviews
5 out of 5 (100%) reviewers would recommend this product to a friend.
Read all reviews »
Amazing gift from my wonderful wife.
20 September 2015
Slabman
Location: Leicester Age: 45-54 Bought For Wife Occasion: Christmas
For somebody who is scared of heights this experience was absolutely amazing. From the time we arrived to a warm and friendly welcome we were kept informed of what was going on and when I would be going up. The flight was brilliant and the pilot and talked to us keeping us informed of points of interest and what he would be doing. If you get the opportunity it is well worth paying the extra for the front seat.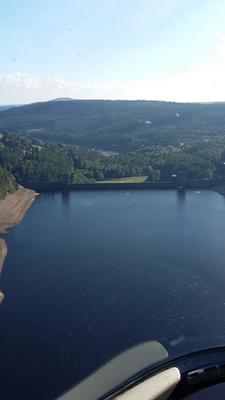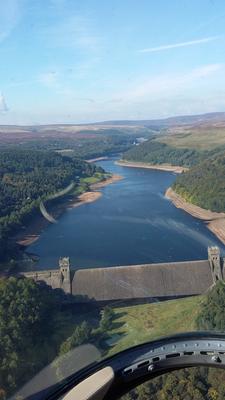 What would you improve for next time? More seating for spectators.
Would you recommend this product to a friend? Yes
Dambusters Helicopter Tour July 2012
10 July 2012
Willis
Location: Scotland Age: 35-44 Bought For Wife Occasion: Birthday
This was a perfect gift for my husband who has a lot of interest and information about things to do with the war as well as statistics about planes and helicopters, I think you call it an anorak! The weather was perfect and the location was good. Even on the ground the view was amazing. After he came back from the tour he was every impressed with the experience and said that the pilot was very informative and easy to speak to. When you get to the location you do get the chance to upgrade to the front seat of the helicopter which is a great idea. We all had a great day and thanks
Would you recommend this product to a friend? Yes
Dambusters Helicopter Tour
19 September 2011
Janey54
Location: Chellaston, Derby Age: 45-54 Bought For Myself Occasion: Birthday
Thank You ! Thank You ! For providing a wonderful gift experience, my husband and I bought this gift for my Dad's 80th Birthday in July. He took to the skies on Sunday 18th September 2011 and he thought it was F A B .... he never stopped talking about it all the way home. Many thanks again and comes highly recommended !!!
Would you recommend this product to a friend? Yes
16 November 2010
Rob Mitchell
Location: Age: 45-54 Bought For Myself Occasion: Birthday
I managed to resist humming the Dambusters theme for the whole time on this helicopter trip - quite an acheivement! All jokes aside it was a brilliant tour flying over all the sights and finding out about the wartime fighter pilots and the RAF training that went on over here.
Would you recommend this product to a friend? Yes
16 November 2010
Maggie Davies
Location: Age: 35-44 Bought For Wife Occasion: Birthday
My dad is really interested in WWII and is always reading something about it so we sent him on the Dambusters Helicopter Tour so he could get some firsthand experience. He really enjoyed his helicopter flight and hearing all about the Lancasters' flight he said the views were incredible too.
Would you recommend this product to a friend? Yes
Dambusters Helicopter Tour -

£149