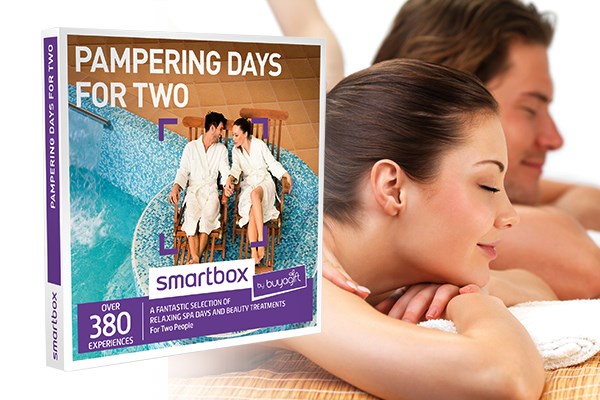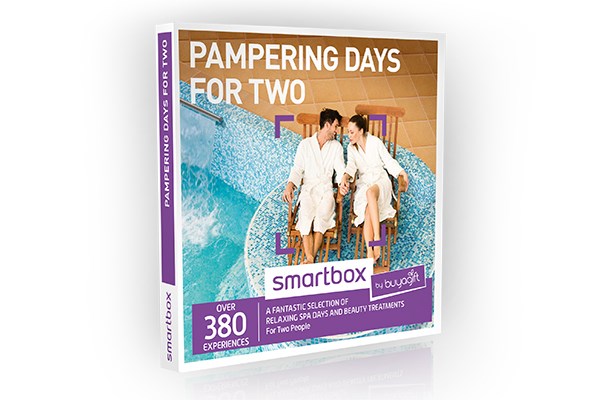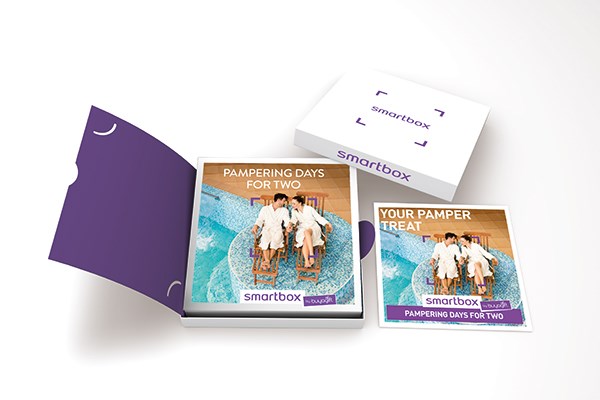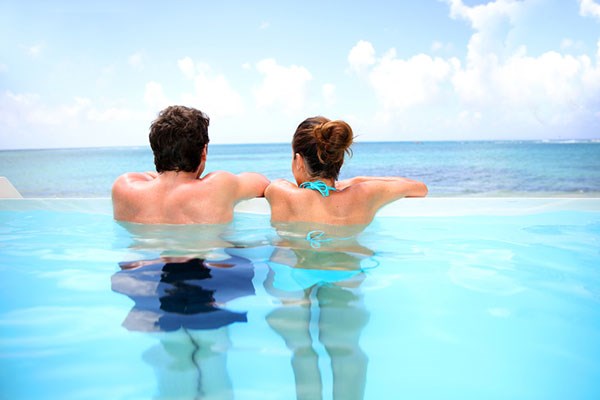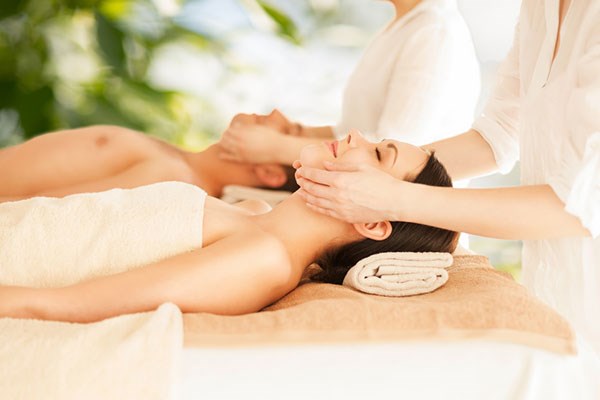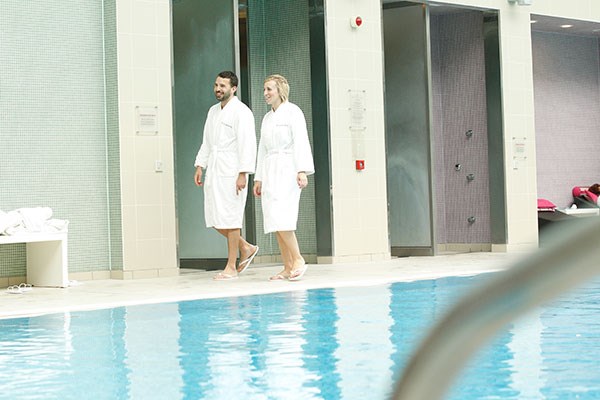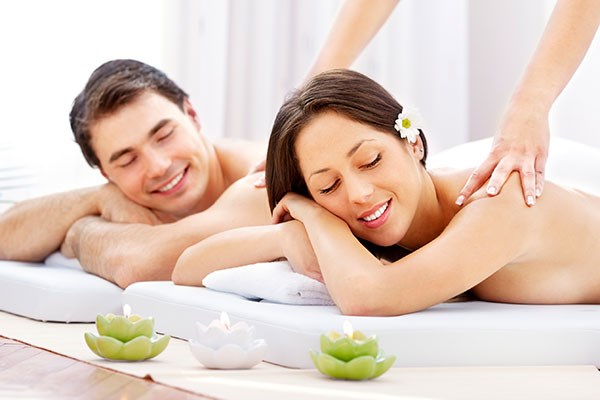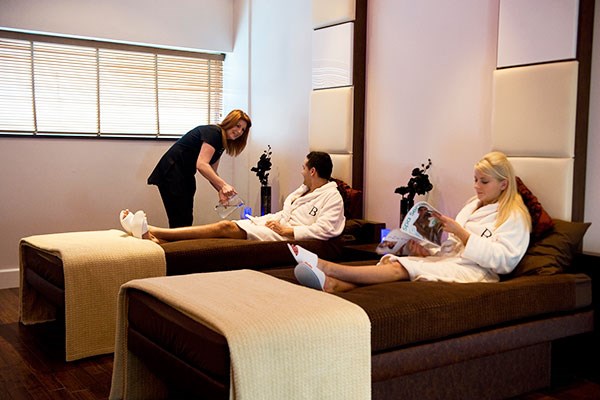 Pampering Days for Two - Smartbox by Buyagift
Product code: 10541538
4.5 out of 5 (based on 602 reviews)
Write a review »
Over 380 Experiences for Two People to Choose From

Selection of Relaxing Spa Days & Beauty Treatments

Valid for 24 Months
How it works
Hundreds of experiences in every Smartbox handpicked from Buyagift's fantastic range.
Includes a beautiful presentation box with a detailed booklet of the experiences included.
Give the gift of choice allowing the recipient to book their chosen experience.
Summary
Regardless of what kind of relaxing pampering experience most appeals to you, we've got something to accommodate your needs. We've hand-selected the best of our spa and pampering days for two to create the finest selection of over 150 luxurious Relaxing Spa Day and Beauty Treatment experiences that are sure to have you looking and feeling your best. Whether you fancy relaxing in the warm bubbles of a Jacuzzi, enjoying a massage by a highly qualified masseuse or having a fashion makeover and taking part in your own photoshoot with a loved one, there is something to suit everyone! At point of purchase you will have the option to choose either a gift box or an evoucher.


Fine Print
What's included?
This voucher includes a selection of over 150 relaxing experiences to choose from including relaxing spa days and beauty treatments for two people
This voucher is valid for 24 months
Your voucher is exchangeable
You will be able to select your chosen experience after purchasing
Exclusion dates may apply
What do I need to know?
All dates are subject to availability
Age restrictions may apply and vary from experience to experience
Pre-booking is essential to avoid disappointment
Please ensure that you take your voucher with you on the day of your experience, along with any other confirmation details the venue provided by the venue
Experiences available within this choice voucher
Filter Products:
Relaxation Gift Day at Marriott Bournemouth Highcliff

Dorset - Bournemouth

more info »

Spa Taster with Afternoon Tea for Two at the Ickworth

Suffolk - Bury St Edmunds

(3)

more info »

Spa Gift Day for Two at Marriott Sprowston Manor Hotel

Norfolk - Norwich

(3)

more info »

Exotic Mud and Scrub Hammam at Portland Hall Spa for Two

Merseyside - Southport

(9)

more info »

Spa and Afternoon Tea for Two at Crowne Plaza Felbridge

West Sussex - East Grinstead

(18)

more info »

Afternoon Tea & Spa Experience for Two at Greenwoods Hotel

Essex - Stock

(40)

more info »

Twilight Retreat for Two at The Club and Spa Chester

Cheshire - Hoole

(75)

more info »

Classic Makeover Experience in London for Two

Greater London - Westminster

more info »

Virgin Active Reviver Package

Multiple Locations

(327)

more info »

Taster Spa Day for Two at Bannatyne Health Club Burton on Trent

Staffordshire - Burton on Trent

more info »

Taster Spa Day for Two at Bannatyne Health Club Bristol

Avon - Bristol

more info »

Taster Spa Day for Two at Bannatyne Health Club Luton

Bedfordshire - Luton

more info »

Pure Pamper for Two at Pure Spa & Beauty Glasgow, Silverburn

Strathclyde - Glasgow

more info »

Taster Spa Day for Two at Bannatyne's Health Club Leicester

Leicestershire - Leicester

more info »

Taster Spa Day for Two at Bannatyne's Health Club Cardiff

Cardiff - Cardiff

more info »

Reviver Package for Two at Virgin Active Chelmsford

Essex - Chelmsford

more info »

Reviver Package for Two at Virgin Active Thunderesley Rayleigh

Essex - Thundersley

more info »

Taster Spa Day for Two at Bannatyne's Health Club Manchester

Greater Manchester - Manchester

more info »

Twilight Retreat for Two at The Club and Spa Chester

Cheshire - Hoole

(1)

more info »

Taster Spa Day for Two at Bannatyne Health Club Milton Keynes

Buckinghamshire - Milton Keynes

more info »

Reviver Package for Two at Virgin Active Repton Park

Greater London - Chigwell

more info »

Taster Spa Day for Two at a Bannatyne Health Club Mansfield

Nottinghamshire - Mansfield

more info »

Relaxation Gift Day at Marriott Hotel in Liverpool

Merseyside - Liverpool

more info »

Reviver Package for Two at Virgin Active Mill Hill East

more info »

Pure Pamper for Two at Pure Spa & Beauty Glasgow, West Nile

Strathclyde - Glasgow

more info »

Taster Spa Day for Two at Bannatyne Health Club Peterborough

Cambridgeshire - Peterborough

more info »

Reviver Package for Two at Virgin Active Moorgate

Central London - Moorgate

more info »

Taster Spa Day for Two at Bannatyne's Health Club Barnsley

South Yorkshire - Barnsley

more info »

Pure Pamper for Two at Pure Spa & Beauty Aberdeen

Aberdeenshire - Aberdeen

more info »

Reviver Package for Two at Virgin Active Acton West London

Greater London - Acton

more info »

Taster Spa Day for Two at Bannatyne Health Club York

North Yorkshire - York

more info »

Express Facial at Vibro Suite for Two

West Midlands - Birmingham

more info »

Taster Spa Day for Two at Bannatyne Health Club Darlington

County Durham - Darlington

more info »

Reviver Package for Two at Virgin Active Chislehurst

more info »

Spa Taster with Afternoon Tea for Two at Woolley Grange

Wiltshire - Bradford-On-Avon

more info »

Taster Spa Day for Two at Bannatyne Health Club Hastings

East Sussex - Hastings

more info »

Reviver Package for Two at Virgin Active Nottingham

Nottinghamshire - Nottingham

more info »

Taster Spa Day for Two at Bannatyne Health Club Ashford

Kent - Ashford

more info »

Taster Spa Day for Two at Bannatyne Health Club Inverness

Scottish Highlands - Inverness

more info »

Taster Spa Day for Two at Bannatyne Health Club Perth

Central Scotland - Perth

more info »

Midweek Spa Experience for Two

East Riding of Yorkshire - Hull

more info »

Pure Pamper for Two at Pure Spa & Beauty Edinburgh Oceans Terminal

Lothian - Edinburgh

more info »

Taster Spa Day for Two at Bannatyne Health Club Norwich

Norfolk - Norwich

more info »

Taster Spa Day for Two at Bannatyne Health Club Queen Street

Lothian - Edinburgh

more info »

Taster Spa Day for Two at Bannatyne Tamworth

West Midlands - Tamworth

more info »

Pure Pamper for Two at Pure Spa & Beauty Edinburgh, Lothian Road

Lothian - Edinburgh

more info »

Taster Spa Day for Two at Bannatyne Health Club Falkirk

Central Scotland - Falkirk

more info »

Reviver Package for Two at Virgin Active Solihull

West Midlands - Solihull

more info »

Taster Spa Day for Two at Bannatyne Health Club Banbury

Oxfordshire - Banbury

more info »

Reviver Package for Two at Virgin Active Rustington

West Sussex - Littlehampton

(1)

more info »

Taster Spa Day for Two at Bannatyne Health Club Chafford Hundred

Greater London - Barking Dagenham

more info »

Reviver Package for Two at Virgin Active Leeds

West Yorkshire - Leeds

more info »

Taster Spa Day for Two at Bannatyne Health Club Newcraighall

Lothian - Edinburgh

more info »

Reviver Package for Two at Virgin Active Wandsworth

Greater London - Wandsworth

more info »

Taster Spa Day for Two at Bannatyne Health Club Carlisle

Cumbria - Carlisle

more info »

Taster Spa Day for Two at Bannatyne Health Club Dunfermline

Fife - Dunfermline

more info »

Fire and Ice Spa Day with Mud Chamber at Imagine Spa for Two

Norfolk - Kings Lynn

more info »

Taster Spa Day for Two at Bannatyne Health Club Broadstairs

Kent - Broadstairs

more info »

Taster Spa Day for Two at Bannatyne's Health Club Solihull

West Midlands - Solihull

more info »

Taster Spa Day for Two at Bannatyne Health Club Sutton Coldfield

West Midlands - Sutton Coldfield

more info »

Taster Spa Day for Two at Bannatyne Health Club Priory Queensway

more info »

Taster Spa Day for Two at Bannatyne Brindley Place

West Midlands - Birmingham

more info »

Indulgent Spa Day for Two at The Angel Therapy Rooms

Suffolk - Sudbury

more info »

Spa Experience for Two at Elemis Beauty Salon

Greater London - Ealing

more info »

Relaxing Spa Day at Natura Spa Inglewood for Two

Berkshire - Hungerford

more info »

Spa Day for Two at The Beauty Lodge

Greater London - Enfield

more info »

Spa Experience for Two at Flitz Herbal and Holistic Centre

West Midlands - Birmingham

more info »

Relaxation Experience for Two at Claudia's Hair and Beauty

Greater London - Camden

more info »

Spa Day at Le Beautique Spa for Two

Greater London - Camden

more info »

Spa Day with Mocktail for Two at Spa Isha Aromatherapy

Greater London - Ealing

more info »

Relaxing Spa Day for Two at Marrakech Spa

Essex - Redbridge

more info »

Double Treatments for Two at Body Flair

Gloucestershire - Hucclecote

more info »

Relaxing Pampering Treat at The Duchess Salon

Hertfordshire - Barnet

more info »

Spa Treats for Two at Justified Hair and Beauty

Greater London - Lambeth

more info »

Deep Tissue Massage with Sauna for Two at Slique Spa

Greater London - Lambeth

more info »

Pamper Treats for Two at Head and Soul

Norfolk - Norwich

more info »

Spa Treats for Two at Aura Divine Hair and Beauty

Derbyshire - Derby

more info »

Massage for Two at A.R.A Aesthetics Group

Merseyside - Liverpool

more info »

Spa Treats for Two at The Vanilla Rooms

Greater Manchester - Manchester

more info »

Massage and Beauty Treat for Two at Beauty and Hair

more info »

Massage and Facial for Two at Beauty Treats

Nottinghamshire - Sherwood

more info »

Cut or Shave for Two at Head Barbers

Greater London - Merton

more info »

Facial and Massage for Two at Danielle's Beauty Within

West Midlands - Birmingham

more info »

Manicure and Pedicure for Two at Be You Beauty

Greater London - Richmond Upon Thames

more info »

Spa Treats for Two at Beauty Therapy Suite

Glamorganshire - Swansea

more info »

Massage and Spa Access for Two at Gloss Hair and Beauty

Merseyside - Bootle

more info »

Three Massages for Two at Beauty Bar Heston

Greater London - Hounslow

more info »

Beauty Treatments for Two at Reet's Academy Makeup and Hair Training

Greater London - Ealing

more info »

Spa Day with Afternoon Tea for for Two at Jake Alexander Hair and Beauty

Cheshire - Accrington

(1)

more info »

Spa Day with Afternoon Tea for Two at Best Western Royal Clifton Hotel

Merseyside - Southport

more info »

Spa Day with Afternoon Tea for Two at the Cedar Court Hotel Wakefield

West Yorkshire - Wakefield

more info »

Relaxation for Two at The Broadway Studios

Greater London - Merton

more info »

Spa Day with Afternoon Tea for Two at the Reversal Aesthetics at Skin

Greater Manchester - Manchester

more info »

Spa Day with Afternoon Tea for Two at Beauty at The Inn

Northumberland - Newcastle

more info »

Pamper Treat for Two at MCR Studios

Greater Manchester - Manchester

more info »

Relaxation Treat for Two at Flawless Photography Studios

West Yorkshire - Leeds

more info »

Spa Day with Afternoon Tea for Two at the Cedar Court Hotel Huddersfield

West Yorkshire - Huddersfield

more info »

Relaxation Pamper Treat at Younique Look for Two

Greater London - Tower Hamlets

more info »

Relaxation for Two at iPhotography Limited

West Midlands - Coventry

more info »

Design Your Own Perfume Gold Experience for Two

Multiple Locations

(3)

more info »

Taster Pamper Package with Afternoon Tea at Schmoo Spa Hilton for Two

Multiple Locations

(7)

more info »

Taster Pamper Package with Afternoon Tea at Schmoo by the Sea for Two

East Sussex - Brighton

(4)

more info »

Spa Day with Afternoon Tea for Two at the Cedar Court Hotel Bradford

West Yorkshire - Bradford

more info »

Pure Pamper for Two at Pure Spa & Beauty

Multiple Locations

(1)

more info »

Spa Treat for Two at The Abbey Spa

Greater London - Barking & Dagenham

more info »

Massage, Facial, Manicure and Pedicure for One at Danielle's Beauty Within

West Midlands - Birmingham

more info »

Two Pamper Treats for Two at Diamond Beautique Hillside

Merseyside - Southport

more info »

Two Pamper Treats for Two at Diamond Beautique Churchtown

Merseyside - Southport

more info »

Spa Treats for Two at Baker Girl Beauty

Kent - Bromley

more info »

Manicure and Pedicure for Two at Montana Spa

Tyne & Wear - Washington

more info »

Stylist Blow Dry and Conditioning Treatment for Two at Ciscos Karma

East Sussex - Brighton

more info »

Manicure and Pedicure for Two at Absolute Health and Beauty

Hertfordshire - Watford

more info »

Double Spa Treatment for Two at Magic Hands Holistic and Beauty Therapy

Cheshire - Ellesmere Port

more info »

Double Spa Treatment for Two at Magic Hands Holistic and Beauty Therapy

Merseyside - St Helens

more info »

Message for Two at The Healing Touch Academy

Nottinghamshire - Nottingham

more info »

Design Your Own Perfume Gold Experience for Two in Stratford Upon Avon

Warwickshire - Stratford Upon Avon

more info »

Manicure Spa Day for Two at Bannatyne Spa Birmingham

more info »

Pure Pamper for Two at Pure Spa & Beauty Edinburgh

Midlothian - Edinburgh

more info »

Design Your Own Perfume Gold Experience for Two in Inverness

Scottish Highlands - Inverness

more info »

Design Your Own Perfume Gold Experience for Two in Hitchin

Hertfordshire - Hitchin

more info »

Design Your Own Perfume Gold Experience for Two in Ashford

Kent - Ashford

more info »

Design Your Own Perfume Gold Experience for Two in Goiseinon

Swansea - Goiseinon

more info »

Design Your Own Perfume Gold Experience for Two in London

Greater London - Hammersmith & Fulham

more info »

Deluxe Makeover, Haircut and Photoshoot for Two in London - Weekdays

Greater London - Westminster

more info »

Hillmotts Half Day 'Kick Start your Fitness' in Ashbourne

Derbyshire - Ashbourne

more info »

Design Your Own Perfume Gold Experience for Two in Wellingborough

Northamptonshire - Wellingborough

more info »

Design Your Own Perfume Gold Experience for Two in Nottingham

Nottinghamshire - Nottingham

more info »

Design Your Own Perfume Gold Experience for Two in Warwickshire

Warwickshire - Stratford Upon Avon

more info »

Deluxe Makeover, Haircut and Photoshoot for Two in Birmingham - Weekdays

West Midlands - Birmingham

more info »

Design Your Own Perfume Gold Experience for Two in Worcester

Worcestershire - Worcester

more info »

Design Your Own Perfume Gold Experience for Two in Cheshire

Cheshire - Runcorn

more info »

Design Your Own Perfume Gold Experience for Two in Manchester

Greater Manchester - Manchester

more info »

Design Your Own Perfume Gold Experience for Two in Newcastle

Tyne & Wear - Newcastle

more info »

Design Your Own Perfume Gold Experience for Two in Ripon

West Yorkshire - Ripon

more info »

Design Your Own Perfume Gold Experience for Two in Dunlop

Ayrshire - Dunlop

more info »

Design Your Own Perfume Gold Experience for Two in Isle of Man

Isle of Man - Douglas

more info »

Design Your Own Perfume Gold Experience for Two in Edinburgh

Lothian - Edinburgh

more info »

Design Your Own Perfume Gold Experience for Two in Linlithgow

Lothian - Linlithgow

more info »

Design Your Own Perfume Gold Experience for Two in Orkney

Orkney - Orkney

more info »

Design Your Own Perfume Gold Experience for Two in Ampthill

Bedfordshire - Ampthill

more info »

Design Your Own Perfume Gold Experience for Two in Hastings

East Sussex - Hastings

more info »

Design Your Own Perfume Gold Experience for Two in Essex

Essex - Barking & Dagenham

more info »

Design Your Own Perfume Gold Experience for Two in Hampshire

Hampshire - Southampton

more info »

Design Your Own Perfume Gold Experience for Two in Tunbridge Wells

Kent - Tunbridge Wells

more info »

Design Your Own Perfume Gold Experience for Two in Southburgh

Norfolk - Southburgh

more info »

Design Your Own Perfume Gold Experience for Two in Dorking

Surrey - Dorking

more info »

Design Your Own Perfume Gold Experience for Two in Reading

Berkshire - Reading

more info »

Taster Pamper Package with Afternoon Tea at Schmoo Spa in Wokingham for Two

Berkshire - Wokingham

more info »

Hillmotts Half Day 'Kick Start your Fitness' in Dorset

Dorset - Blandford Forum

more info »

Taster Pamper Package with Afternoon Tea at Schmoo Spa in Tewkesbury for Two

Gloucestershire - Tewkesbury

more info »

Hillmotts Half Day 'Kick Start your Fitness' in Chipping Norton

Oxfordshire - Chipping Norton

more info »

Design Your Own Perfume Gold Experience for Two in Pembrokeshire

Dyfed - Pembrokeshire

more info »

Taster Pamper Package with Afternoon Tea at Schmoo Spa for Two

Glamorganshire - Cardiff

more info »

Design Your Own Perfume Gold Experience for Two in Newport

Gwenton - Newport

more info »

Spa Day for Two at Imagine Spa Hazelwood Castle

North Yorkshire - York

more info »

Spa Day for Two at The Dower House Hotel and Spa

North Yorkshire - Knaresborough

more info »

Double Massage Treat for Two at Energise Therapies and Training

Lanarkshire - Glasgow

more info »

Manicure and Pedicure for Two at Era Hair and Beauty

Greater London - Hammersmith & Fulham

more info »

Eyelash Tint with Eyebrow Shape and Tint for Two at Tranquil Spa Hagley

West Midlands - Stourbridge

more info »

Choice of Treatments for Two at The Beauty Boutique

Staffordshire - Stoke-On-Trent

more info »

Spray Tan and Manicure for Two at 508 Beauty

Cheshire - Warrington

more info »

Hair Treatments for Two at Iain Stewart Hairdressing

Renfrewshire - Paisley

more info »

Choice of Two Treatments for Two at The Tanning and Beauty Salon

Essex - Chelmsford

more info »

Manicure and Pedicure for Two at Beaut Box

Greater London - Hackney

more info »

Roots Retouch and Blow-dry for Two at Little Red's Boutique

West Yorkshire - Leeds

more info »

Floatation Therapy or Massage for Two at Create Your Beauty

Hertfordshire - Watford

more info »

Massage Treatments for Two at Sophie Élise Beauty Boutique

Leicestershire - Melton Mowbray

more info »

Manicure and Pedicure for Two at The Salon

South Yorkshire - Sheffield

more info »

Mini Manicure and Express Pedicure for Two at True Beauty

Greater London - Bromley

more info »

Four Treatments for Two at Circle of Beauty

Blaenau Gwent - Tredegar

more info »

Mini Facial and Eyebrow Shape for Two at Beautiful World Salon

Middlesex - Richmond Upon Thames

more info »

Choice of Treatments for Two at AVA Beauty

Greater Manchester - Ashton Under Lyne

more info »

Two Treatments for Two at The Treatment Studio

Kent - Rochester

more info »

Pedicure with Eyebrow and Eyelash Tint for Two at L's Boudoir Skin Therapy Clinic

Greater London - Lewisham

more info »

Two Treatments for Two at Orchard Makeup and Beauty

Cornwall - Falmouth

more info »

Back Exfoliation and Indian Head Massage for Two at Beautology by Jessica

Greater London - Barnet

more info »

Shape & Polish with Back Massage for Two at Rejuven8 Beauty Clinic

Greater London - Haringey

more info »

Filed and Polished Hands and Toes for Two at Asembo Hair and Beauty

Lincolnshire - Stamford

more info »

Luxury Manicure with Eyelash Tint for Two at Shhhh Hair and Beauty

North Yorkshire - York

more info »

Wash and Blow Dry for Two at Mona Heights Hair Salon

Surrey - Dorking

more info »

Back and Neck Massage with Floral Foot Soak for Two at WPR Trade

Essex - Billericay

more info »

Pedicure with Shaping and Painted Hands for Two at Pink and Rose

Middlesex - Harrow

more info »

Manicure and Pedicure for Two at iFloat Spa

Kent - Bromley

more info »

Back, Neck and Shoulder Massage with File and Polish For Two at Charisma Beauty

Norfolk - Norwich

more info »

Wash, Cut and Blow-dry for Two at Dara 4 Hair

Dorset - Bournemouth

more info »

Back, Neck and Shoulder Massage with Pedicure for Two at Heaven Scent

Hampshire - Portsmouth

more info »

Glaze, Blow-dry and Head Massage each for Two at Hair Bar

West Yorkshire - Hebden Bridge

more info »

Treatment Choice for Two at The Beauty Lounge

North Yorkshire - Middlesborough

more info »

Roll and Lift Face Treatment with Shellac Nails Each for Two at TH Beauty Therapy

Hampshire - Winchester

more info »

File and Polish Pedicure with Lash and Brow Tint for Two at Martina's Beauty

Greater London - Bromley

more info »

Pedicure with Gel Nails for Two at R-Twins Hair and Beauty

Devon - Cullompton

more info »

Polish Manicure and Pedicure for Two at Ruby Jo's Beauty Salon

Lancashire - Wigan

more info »

Spa Facial with Eyebrow Shaping for Two at Primas Beauty

Greater London - London

more info »

Manicure with Eyelash Tint for Two at Just Pampered Rayleigh

Essex - Rayleigh

more info »

Wash, Cut and Blow-dry with Conditioning Treatment for Two at Kink Hair

Essex - Southend on Sea

more info »

Two Treatments for Two at VG MediSpa Leeds

West Yorkshire - Leeds

more info »

Mini Manicure and Mini Pedicure Each for Two at Ice Hair and Body

Aberdeenshire - Aberdeen

more info »

Gel Hands and Toes for Two at Body Sculpture

Merseyside - Liverpool

more info »

Facial Massage with Eyebrow or Eyelash Tint Each for Two at Be Nice Beauty

Greater London - Westminster

more info »

Hair Cut and Blow Dry for Two at E Scissorhands

Greater London - Camden

more info »

Wash, Cut and Finish for Two at Scissorhands London

Greater London - Hackney

more info »

Two Treatments each for Two at Serenity Beauty Boutique

Midlothian - Edinburgh

more info »

Wash and Blow-dry with Mini Pedicure Each for Two at Tandis Hair and Beauty

Multiple Locations

more info »

Hair Treatment with Long Cut and Blow Dry for Two at Hairs and Graces

Lanarkshire - Glasgow

more info »

Manicure and Pedicure or Fake Bake and Manicure for Two at Touchwood Beauty

Bedfordshire - Leighton Buzzard

more info »

Wash and Blow-dry with Full Make up for Two at Deva Hair and Beauty

Cheshire - Chester

more info »

Gelish Hands and Feet for Two at Esandes Hair and Beauty Salon

Gloucestershire - Cheltenham

more info »

Express Facial with File and Polish for Two at Beauty Care

South Yorkshire - Sheffield

more info »

Eyelash and Brow Tint Each for Two at The Nail Yard

Midlothian - Edinburgh

more info »

Professional Makeover with Pedicure for Two at Kingsley Health and Beauty

Northamptonshire - Northampton

more info »

Manicure with Eyelash and Brow Tint with Shaping for Two at Barnham Health

West Sussex - Bognor Regis

more info »

Wash, Trim and Blow-dry with Full Set Eyelashes for Two at Premier Hairdressing

Nottinghamshire - Nottingham

more info »

Wash and Blow-dry with Manicure or Shiatsu Treatment for Two at Chesne Hair

Strathclyde - Glasgow

more info »

Eyelash Tint with Mini Manicure or Pedicure for Two at Beauty Worx

Somerset - Taunton

more info »

Choice of Treatment for Two at The Lavender Beauty Salon

Multiple Locations

more info »

Pedicure with Gel Polish at Victoria Joy Beauty

North Yorkshire - York

more info »

Wash and Blow-dry with File and Polish for Two at Carma Salon

Shropshire - Shrewsbury

more info »

Manicure with Eyebrow Shaping For Two at Serenity Beauty

Oxfordshire - Witney

more info »

Mini Manicure and a Foot File and Polish for Two at Flaunt Spa

East Riding of Yorkshire - Kingston Upon Hull

more info »

Choice of Pampering Treats for Two at The Lavender Beauty Salon

Multiple Locations

more info »

Back Body Scrub and Eye Treatment for Two at Eden Skye Aesthetics

County Durham - Darlington

more info »

Gel Polish for Hands and Feet for Two at Bliss Health and Beauty Sheffield

South Yorkshire - Sheffield

more info »

Full Body Fast Tan and Mini Manicure for Two at Serenity Beauty Suite

Swansea - Swansea

more info »

Wash, Cut and Finish with Gel Nails for Two at Pzazz Hair and Beauty

Dorset - Dorchester

more info »

Full Body Spray Tan with Eyelash Tint for Two at The Salon Lincoln

Lincolnshire - Lincoln

more info »

File and Polish with Back, Neck and Shoulder Massage for Two at Tranquility Beauty

Essex - Basildon

more info »

Three Treatments Each for Two at The Retreatery

West Sussex - East Grinstead

more info »

Choice of Treatments for Two at aUK

Lincolnshire - Grantham

more info »

Express Wet Shave with Upper Body Massage for Two at Groom and Butler

Cambridgeshire - Peterbrough

more info »

Eyelash and Brow Tint with File and Polished Feet for Two at Urban Beauty

Warwickshire - Rugby

more info »

Express Kaeso Facial with Mini Manicure for Two at Atlantis Beauty Salon

Swansea - Neath

more info »

Express Mani Pedi for Two at Artistic Beauty

Hampshire - Southampton

more info »

Manicure and Pedicure or Manicure with Blow-dry for Two at Miracles Hair Salon

Tyne & Wear - Durham

more info »

Luxury Pedicure and Shellac Hands for Two at Quintessential Hair & Beauty

Shropshire - Ludlow

more info »

Choice of Treatments for Two at Cuffley Hair Studio

Hertfordshire - Potters Bar

more info »

Classic Manicure and Foot Massage for Two at Jackie and Co Hair and Beauty

Multiple Locations

more info »

OPI File and Polish Fingers and Toes for Two at The Art of Beauty

Northamptonshire - Northampton

more info »

Shape and Polish on Hands and Feet for Two at Serenity Health And Beauty

Multiple Locations

more info »

Manicure or Pedicure and File and Polish for Two at The Wee Beauty Room

Lanarkshire - Glasgow

more info »

Middlesex - Harrow

more info »

Choice of Treatments for Two at Bom Dia Therapies

Hampshire - Eastleigh

more info »

Blissful Spa Day Choice for Two - UK Wide

Multiple Locations

(60)

more info »

Lash and Brow Tint with Shape and Varnish Nails for Two at The Shed Boutique

Dorset - Bridport

more info »

Back and Shoulder Massage with Wash and Blow-dry for Two at Gloss Hair and Beauty

Surrey - Oxted

more info »

Pedicure and File and Paint on Hands for Two People at The Tanning Rooms

Greater London - Enfield

more info »

Eyelash and Eyebrow Treats for Two at Love Locks Hair & Makeup Lounge

Hertfordshire - Hertford

more info »

Mini Manicure with Pedicure or Facial for Two at Natural Gloe Health and Beauty

Middlesex - Ealing

more info »

Eyelash Tint with Manicure or Pedicure for Two at LEVOI Champagne Nail Bar

Northumberland - Newcastle upon Tyne

more info »

Manicure with Eyelash Tint for Two at Belle du Jour

Greater London - Barking & Dagenham

more info »

Facial with Back, Neck and Shoulder Massage for Two at The Beauty Salon Ramsgate

Kent - Ramsgate

more info »

Wash, Cut and Blow-dry for Two at Herr Kutts

Glamorganshire - Swansea

more info »

Two Beauty Treatments for Two at The Sun Room

Greater London - Westminster

more info »

Salon Pedicure with Nail Tidy and Polish for Two at Colabella Hair and Beauty

Multiple Locations

more info »

Wash, Cut and Blow-dry with Conditioning Treatment for Two at Headz Up

Essex - Clacton

more info »

Gel Polish Hands and Feet for Two at Studio 194

Merseyside - Wallasey

more info »

Pedicure with Foot Massage for Two at Maschio Hair and Beauty

West Yorkshire - Leeds

more info »

California Spray Tan with Polished Nails for Two at Images Beautique

Essex - Billericay

more info »

Manicure and Zen Spa Mini Pedicure for Two at Beauty Box

Gloucestershire - Gloucester

more info »

File and Polish for Hands and Feet for Two at Indulgence Beauty & Nail Salon

Wiltshire - Marlborough

more info »

Shellac on Hands and Feet for Two at Nail Divas

Cardiff - Whitchurch

more info »

Wash, Blow-dry and Hair Straightening for Two at Salon A.B.V Hair and Beauty

Kent - Dartford

more info »

Discovery Facial and Back, Neck and Shoulder Massage for Two at The Sapphire Salon

Berkshire - Maidenhead

more info »

Mini Facial with Polished and Filed Hands for Two at Marams Beauty Studio

Aberdeenshire - Aberdeen

more info »

Back Massage and Mini Manicure or Pedicure for Two at 5 Star Pampering

Essex - Brentwood

more info »

Lash and Brow Tint for Two at Bespoke Beauty

Berkshire - Eton

more info »

Express Lashes with File and Paint Hands or Feet for Two at Pamper and Polish

Kent - Ramsgate

more info »

Facial with Lash and Brow Tint for Two at Fay Attridge Health and Beauty

West Sussex - Chichester

more info »

Dermalogica Facial with File and Polish for Two at Arabella Hair and Beauty

Warwickshire - Leamington Spa

more info »

Back, Neck and Shoulder Massage with Party Eyelashes for Two at Glam and Go

Strathclyde - Glasgow

more info »

Party Eyes and Party Lashes For Two at Pout2Perfection

Midlothian - Edinburgh

more info »

Mini Facial and Eye Lash Tint for Two at Bobby Dazzlers Nails and Beauty

Hampshire - Southampton

more info »

Manicure and Pedicure each for Two at Donella's Health and Beauty

Kent - Ramsgate

more info »

Express Manicure and Pedicure for Two at Fabulous Nails and Lashes Beauty Salon

East Sussex - Lewes

more info »

Saint Tropez Tan and Paraffin Wax Face Max for Two at Mityme Beauty Therapy

Berkshire - Windsor

more info »

Facial and Reiki or Reflexology for Two at Celestial Healing Massage and Beauty

Leicestershire - Leicester

more info »

File and Polish with Eyelash and Brow Tint for Two at Serenity Beauty

Cambridgeshire - Peterborough

more info »

Manicure and Mini Facial for Two at Gossip Girls Beauty Salon

West Midlands - Sutton Coldfield

more info »

Gel Polish and Wet Hair Cut for Two at Angels Beauty and Hair Salon

West Yorkshire - Bradford

more info »

Gel Nails and Manicure or Pedicure for Two at Body Beautiful Northampton

Northamptonshire - Northampton

more info »

Party Lashes and Gel Polish Manicure for Two at Fresh Beauty Clinic Walsall

West Midlands - Walsall

more info »

Two Pampering Treatments for Two at Donna Crystal Holistics

Scottish Highlands - Fort William

more info »

Gents Wash, Cut and Style with Lash and Brow Tint for Two at Urban Therapy

Hertfordshire - Hertford

more info »

Facial and Choice of Massage for Two at Nubian Massage

Greater London - Brent

more info »

Manicure with Eyebrow Tint for Two at Remy Beauty

Leicestershire - Leicester

more info »

Full Head Highlights with Anti-Aging Facial for Two at Supershocks Hair and Beauty

Greater London - Hounslow

more info »

Manicure and Pedicure with Polish for Two at The Tan and Beauty Salon

Middlesex - Harrow

more info »

Massage Treatment with Full Body Tan for Two at Elite Beauty For You

Surrey - Croydon

more info »

Deep Cleanse Facial and Express Manicure for Two at Kiri Beauty Salon

Hampshire - Havant

more info »

Manicure and Indian Head Massage for Two at Elysium Beauty Rooms

Cambridgeshire - Wisbech

more info »

Luxury Pedicure with Hand File and Polish for Two at GRB Beauty

Greater Manchester - Manchester

more info »

Facial with Eyebrow and Eyelash Tint for Two at Caroline's Hair Nails and Beauty

West Midlands - Birmingham

more info »

Back Massage with Back Exfoliation for Two at Vitalia Beauty and Wellness

Greater London - Tower Hamlets

more info »

Eyelash Tint with Brow Shape and Tint for Two at Tranquil Spa Hagley

West Midlands - Stourbridge

more info »

Manicure with Facial for Two at Her Cut Salon

Greater London - Barnet

more info »

Shoulders and Face Massage with Pedicure for Two at Euphoria Hair and Beauty Salon

Greater London - Merton

more info »

Hair Cut and Blow Dry for Two at Hays Hair

Northamptonshire - Daventry

more info »

Microzone Treat and Jessica Manicure for Two at Purity Beauty Hair and Skin Clinic

Greater London - Kingston Upon Thames

more info »

Choice of Treatments for Two at Snips and Tips

Nottinghamshire - Nottingham

more info »

Treatment Choices for Two at Lola's Lash Boutique

Strathclyde - Glasgow

more info »

Choice of Two Treatments for Two at Elements of Serenity

Wiltshire - Swindon

more info »

Back Massage and Aromatherapy Facial for Two at I Candy Beauty and Boutique

Avon - Bristol

more info »

Express Facial with Eyelash Tint for Two at Archfit Beauty

West Midlands - Birmingham

more info »

Wash, Cut and Blow-dry for Two at Cutting Edge

Avon - Bristol

more info »

Party Lashes with File and Polish for Two at Definitions Hair and Beauty

East Sussex - Hailsham

more info »

Reflexology and Indian Head Massage for Two at Natural Health Centre

Greater London - Kensington & Chelsea

more info »

Back Scrub and Swedish Back and Shoulder Massage for Two at Elexa Elegance Beauty

Glamorganshire - Swansea

more info »

Lash and Brow Tint with Manicure File and Polish for Two at Essential Spa Salon

Merseyside - New Brighton

more info »

Choice of Two Massages for Two at North Gulham Spa

Lincolnshire - Market Rasen

more info »

Cut, Finish and Kevin Murphy Hair Treatment for Two at Renaissance Hair and Beauty

West Yorkshire - Leeds

more info »

Wash, Cut and Blow-dry with Conditioning and Eyebrow Shape for Two at Salon Rouge

Greater Manchester - Wigan

more info »

Pampering Manicure and Eye Lash Tint for Two at Carrie Swain

East Riding of Yorkshire - Anlaby

more info »

Classic Manicure and Indian Head Massage for Two at Style Essence

Greater London - Lewisham

more info »

IBX Manicure with Brow Tint and Tidy for Two at House Of Trinity

Hampshire - Southampton

more info »

Crazy Angel Spray Tan and Eyebrow Tint for Two at Splitendz Beauty

Greater London - Lewisham

more info »

Wash, Cut and Blowdry for Two at La Parlour Beauty

Greater London - Redbridge

more info »

Luxury Pedicure with File and Polish Manicure for Two at Fabulous Nails and Beauty

Greater London - Newham

more info »

Express Facial and Brow Tint for Two at Diamante Beauty

Greater London - Barnet

more info »

Manicure and Gel Polish for Two at Beautiful You

Stirling - Bonnybridge

more info »

Skincare Lesson with a File and Polish on hands or feet at Contours Beauty

Essex - Tiptree

more info »

Spa Day for Two at Verulamium Spa

Hertfordshire - St Albans

more info »
Pampering Days for Two - Smartbox by Buyagift -

£59.99
Pampering Days for Two - Smartbox by Buyagift -

£59.99