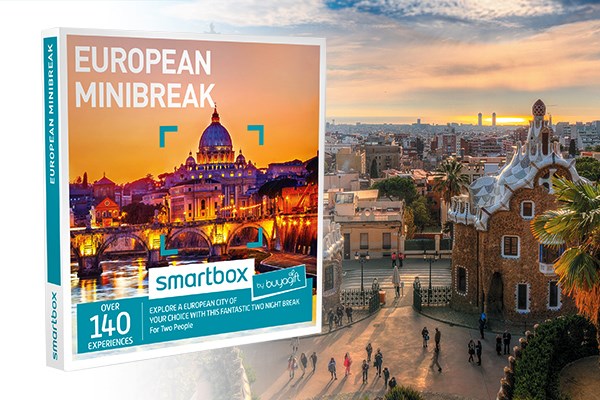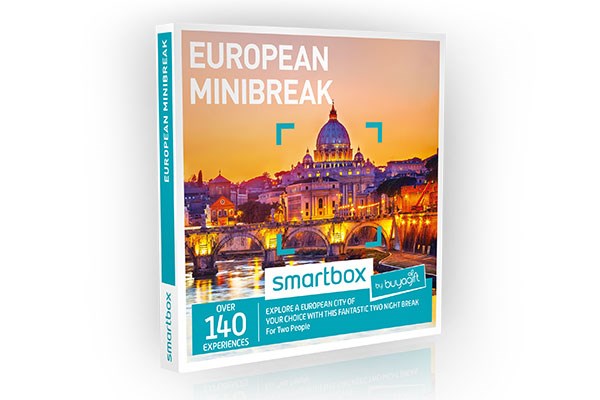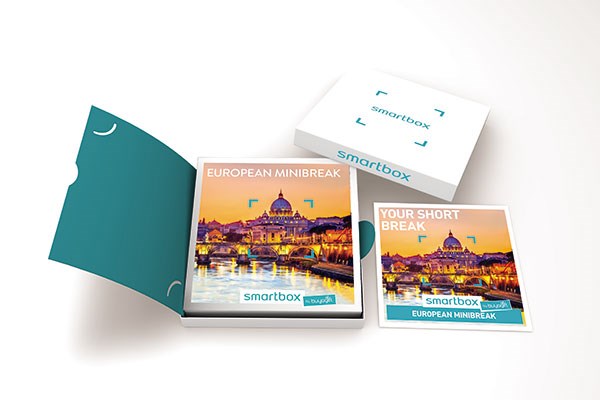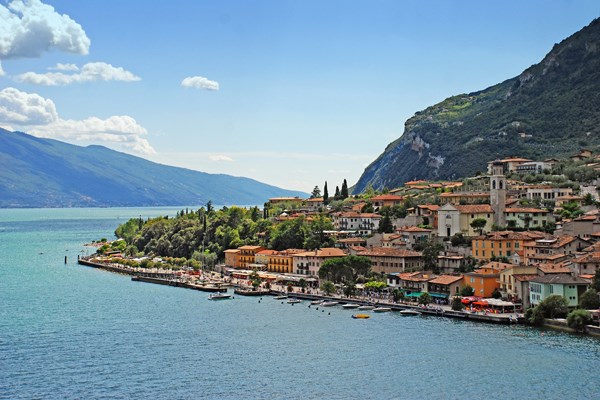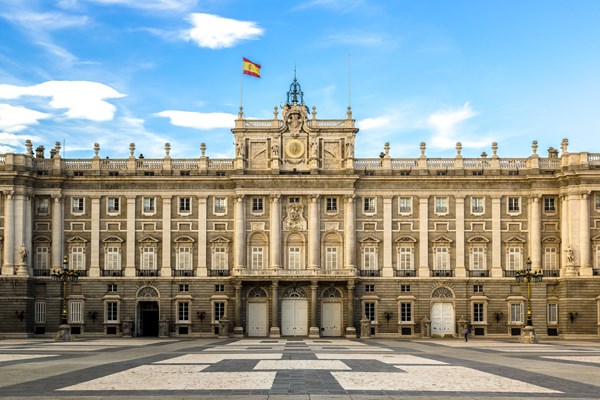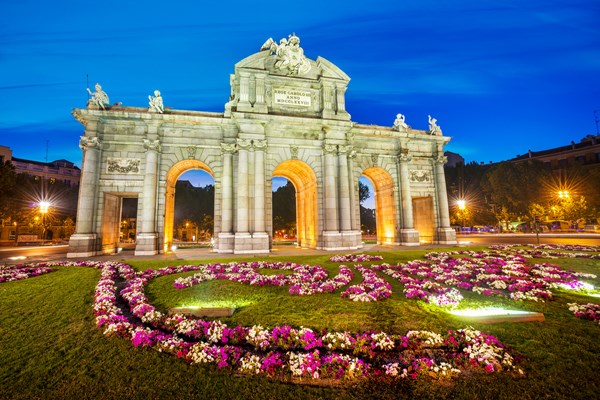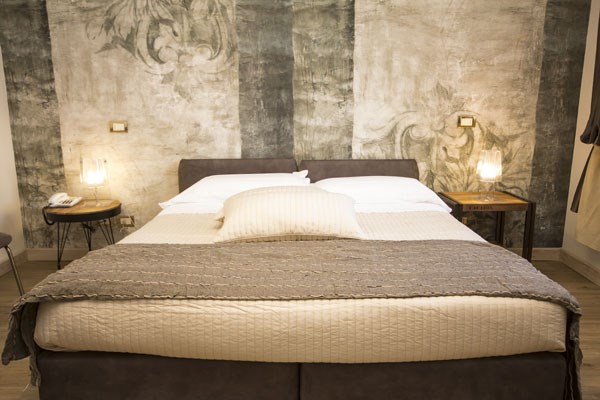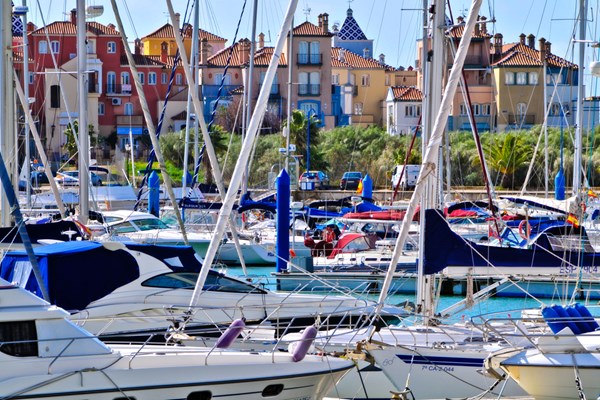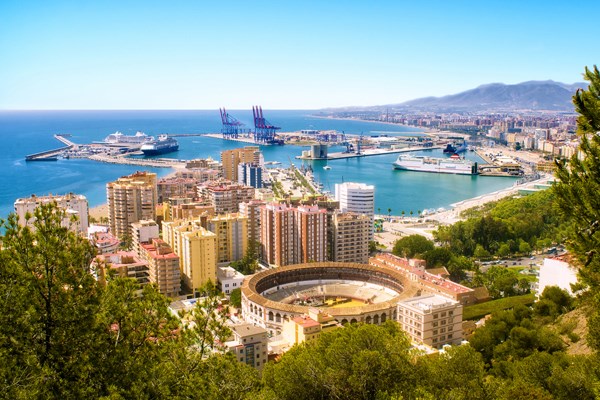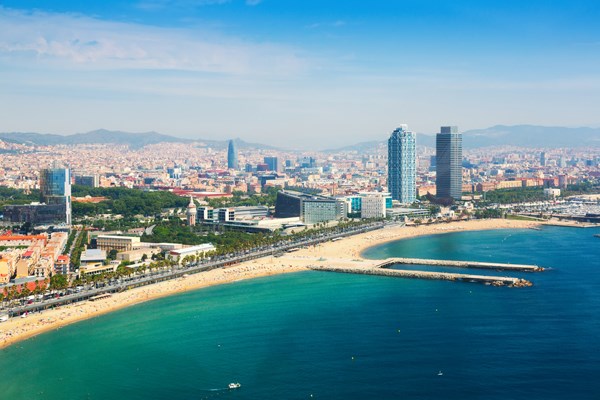 Two Night European Minibreak - Smartbox by Buyagift
Product code: 10956014
4.5 out of 5 (based on 18 reviews)
Write a review »
Over 140 Two Night Experiences to Choose From

Explore a European City - Paris, Rome & More

Valid for 24 Months
How it works
Hundreds of experiences in every Smartbox handpicked from Buyagift's fantastic range.
Includes a beautiful presentation box with a detailed booklet of the experiences included.
Give the gift of choice allowing the recipient to book their chosen experience.
Summary
Discover Europe with this fantastic two-night hotel break. Choose from a great selection of quality hotels dotted all across the continent. You can visit classic hubs of world-class culture and cuisine such as Paris, Barcelona or Rome. Alternatively, get off the beaten track and explore the unique and fascinating culture of beautiful Hungary or Slovakia. With every kind of break on offer, from stays at stylish ski resorts to city centre shopping extravaganzas, you can tailor your European experience to suit you.
Fine Print
What's included?
Two nights' accommodation at a participating European hotel
Breakfast is included at some venues
Many hotels have garden areas, air conditioning, and outdoor pools
Any restrictions?
Your voucher is valid for 24 months for two people
Flights and other transportation is not included
What do I need to know?
All dates are subject to availability - please inquire when booking
Experiences available within this choice voucher
Filter Products:
Two Night Break at Quality Inn Portus Cale in Porto, Portugal

Portugal - Porto

more info »

Two Night Break at H10 Roma Citta

Italy - Rome

(4)

more info »

Two Night Break at the President Hotel

Italy - Venice

more info »

Two Night Break at Hotel Londra

Italy - Florence

(1)

more info »

Two Nights at the Abba Xalet Suites Hotel 4 Stars

Andorra - Andorra

more info »

Two Night Break at Clarion Suites in Lisbon, Portugal

Portugal - Lisbon

more info »

Two Night Getaway at the 4 Star Hotel Molina Lario

Spain - Malaga

(3)

more info »

Two Nights at the 4 Star Venice Resort

Italy - Venezia

more info »

Two Nights at the 4 Star Hotel Russott

Italy - Venezia

(1)

more info »

Two Nights at the 4 Star Hotel Villa Gabriele D'Annunzio

Italy - Firenze

(1)

more info »

Two Night Escape at Lokal Inn in Prague, Czech Republic

Czech Republic - Prague

more info »

Two Night Break at Abba Berlin

Germany - Berlin

(3)

more info »

Weekend Getaway at Hotel Murat, Paris

France - Paris

(3)

more info »

Two Night Getaway at The Posada El Solar in Spain

Spain - Galizano

more info »

Spanish Escape and Tour of Real Madrid Stadium

Spain - Madrid

more info »

Two Night Break at Grand Hotel Liberty for Two

Italy - 3/5 Riva del Garda

more info »

Two Night Stay with a Bottle of Wine at Villa Ambra for Two

Italy - Montepulciano

more info »

Two Night Getaway at The Hotel Rural Zuhayra in Spain

Spain - Zuheros

more info »

Two Night Getaway The Rectoral de Candás in Spain

Spain - Ourense

more info »

Two Night Getaway at Can Enric in Spain

Spain - Sant Sadurní d'Osomort

more info »

Two Night Romantic Getaway at Hotel Panorama in Spain

more info »

Two Night Getaway at Posada El Sestil in Spain

Spain - Dobres

more info »

Two Night Rural Getaway at La Posada de Montellano in Spain

Spain - Seville

more info »

Two Night Getaway at The Hotel Cortijo de Tajar in Spain

Spain - Huertor Tajar

more info »

Two Night Getaway at Las Casitas de la Aldea in Spain

Spain - Malagon

more info »

Two Night Rural Getaway at The Hotel La Garbinadain in Spain

Spain - Granyera de les Garrigues

more info »

Two Nights for Two with Breakfast at the Hotel Diana in Bretagne, France

France - Carnac

more info »

Two Nights with Breakfast for Two at the Château de Bonnevaux in Isère, France

France - Isere

more info »

Two Night Spa Break with Breakfast at the Grand Hotel Le Mont Doré in France

France - Le Mont-Dore

more info »

Two Night Break for Two at L'Hôtel d'Alsace in Illkirch-Graffenstaden, France

France - Illkirch

more info »

Two Night Escape for Two at the Villa Vino in Indre-et-Loire France

France - Mosnes

more info »

Two Nights with Breakfast and Access to Spa for Two at Château des Magnans, France

France - Jausiers

more info »

Two Night Stay with Breakfast for Two at Hotel Cap Coz in France

France - Fouesnant

more info »

Two Nights with Dinner and Breakfast for Two at the Maison de Josepha, France

France - Ferrals-les-Corbières

more info »

Two Night Break with Dinner for Two at the Domaine des Soyeux in France

France - Saint-Julien-Molin-Molette

more info »

Two Night Break for Two with Breakfast at the Hostellerie Le Donjon in France

France - Bourdeilles

more info »

Two Night Escape for Two with Breakfast at Domaine De Rennebourg in France

France - Charente-Maritime

more info »

Two Night break for Two with Breakfast at Bastide de Boisset in France

France - Argilliers

more info »

Two Night Break for Two with Breakfast at la Lumiane in Gers, France

France - Saint-Puy

more info »

Two Night Escape for Two at Turim Iberia Hotel Lisbon, Portugal

Portugal - Lisboa

more info »

Two Night Escape for Two at M'ar De Ar Muralhas Evora, Portugal

Portugal - Évora

more info »

Two Night Escape for Two at Istanbul Golden City Hotel, Turkey

Turkey - Istanbul

more info »

Two Night Escape for Two at Hotel Puerto Sherry, Spain

Spain - Cadiz

more info »

Two Night Break for Two at EA Hotel Manes, Prague

Czech Republic - Prague

more info »

Two Night Escape at Empire Palace Hotel in Instanbul, Turkey

Turkey - Istanbul

more info »

Two Night Break for Two at Hotel Pasarela, Spain

Spain - Seville

more info »

Two Night Escape for Two at Hotel Gran Via Longrono, Spain

Spain - Logroño

more info »

Two Night Escape for Two at Qualys Hotel Nasco Milan, Italy

Italy - Milan

more info »

Two Night Escape for Two at the Hotel Florida Lisbon, Portugal

Portugal - Lisbon

more info »

Two Night Escape for Two at Hotel Eurostars Mar De Vigo, Spain

Spain - Pontevedra

more info »

Two Night Break for Two at Galicia Palace Pontevedra, Spain

Spain - Pontevedra

more info »

Two Night Escape for Two at Hotel Eurostars Las Claras, Spain

Spain - Salamanca

more info »

Two Night Stay for Two at Hotel Alberta Barcelona, Spain

Spain - Barcelona

more info »

Two Night Escape for Two at Hotel Granada Palace, Spain

Spain - Granada

more info »

Two Night Escape for Two at Hotel Eurostars San Lazaro, Spain

Spain - A Coruña

more info »

Two Night Escape for Two at Hotel Eurostars Ciudad de La Coruña, Spain

Spain - A Coruña

more info »

Two Night Break for Two at Coral Hotel in Athens, Greece

Greece - Athens

more info »

Two Night Escape for Two at Eurostars Thalia Hotel, Prague

Czech Republic - Prague

more info »

Two Night Escape for Two at Exe Hotel Klee Berlin, Germany

Germany - Berlin

more info »

Two Night Break for Two at Best Western City Hotel Moran in Prague, Czech Republic

Czech Republic - Prague

more info »

Two Night Escape for Two at Hotel Suite Home in Prague, Czech Republic

Czech Republic - Prague

more info »

Two Night Escape for Two at Hotel Sercotel Gran Fama, Spain

Spain - Almería

more info »

Two Night Escape for Two at Hotel Maisonnave, Spain

Spain - Pamplona

more info »

Two Night Escape for Two at Hotel Villa Gabriele D'annunzio in Florence, Italy

Italy - Florence

more info »

Two Night Escape for Two at Villa Le Rondini in Florence

Italy - Florence

more info »

Two Night Break for Two at Hotel SPA Cádiz Plaza, Spain

Spain - Cádiz

more info »

Two Night Escape for Two at Hotel Mirador de Chamartín Madrid, Spain

Spain - Madrid

more info »

Two Night Break at H10 Itaca

Spain - Barcelona

(2)

more info »

Two Night Escape for Two at Eurostars David Hotel, Prague

Czech Republic - Prague

more info »

Two Night Escape for Two at Hotel Cartagonova and Spa, Spain

Spain - Cartagena

more info »

Two Night Escape for Two at Holiday Inn Lisbon, Portugal

Portugal - Lisbon

more info »

Two Night Escape for Two at Holiday Inn Lisbon Continental, Portugal

Portugal - Lisbon

more info »

Two Night Escape for Two at Yes Hotel Touring Rimini, Italy

Italy - Rimini

more info »

Two Night Escape for Two at Nuevo Boston Hotel in Madrid, Spain

Spain - Madrid

more info »

Two Night Escape for Two at Inglaterra Hotel Lisbon, Portugal

Portugal - Estoril

more info »

Two Night Escape for Two at EA Hotel Crystal Palace, Prague

Czech Republic - Prague

more info »

Two Night Break for Two at Hotel Dei Duchi in Spoleto, Italy

Italy - Spoleto

more info »

Two Night Break at Hotel Giolli in Rome, Italy

Italy - Roma

more info »

Two Night Break for Two at the Hotel Ramada in Naples, Italy

Italy - Naples

more info »

Two Night Break at Azimut Vienna Delta Hotel in Wien, Austria

Austria - Wien

more info »

Two Night Getaway at the BierKulturHotel Schwanen in Ehingen, Germany

Germany - Ehingen

more info »

Two Night Break at Hotel Bologna in Bologna, Italy

Italy - Bologna

more info »

Two Night Italian Break at UNA Hotel Napoli in Naples, Italy

Italy - Naples

more info »

Two Night Escape at Hotel Torresport, Spain

Spain - Cantabria

more info »

Two Night Break at Villa Pace Park Hotel Bolognese

Italy - Preganziol

more info »

Two Night Escape at Ah San Fermin Suites, Spain

Spain - Pamplona

more info »

Two Night Break at Amber Hotel in Istanbul, Turkey

Turkey - Istanbul

more info »

Two Night Escape at Atrium Fashion Hotel in Budapest, Hungary

Hungary - Budapest

more info »

Two Night Escape at UNA Palazzo Mannaioni in Florence, Italy

Italy - Montaione

more info »

Two Night Break for Two at Novotel Budapest Danube in Hungary

Hungary - Budapest

more info »

Two Night Break for Two at Relais Della Rovere in Sienna, Italy

Italy - Sienna

more info »

Two Night Escape at The Anders Hotel in Walsrode, Germany

Germany - Walsrode

more info »

Two Night Break for Two at UNA Vittoria Hotel in Florence, Italy

Italy - Florence

more info »

Two Night Escape for Two at Exe Oviedo Centro, Spain

Spain - Asturias

more info »

Two Night Escape for Two at Hotel FrontAir Congress in Barcelona, Spain

Spain - Barcelona

more info »

Two Night Escape for Two at Hotel Bienestar Termas De Vizela, Portugal

Portugal - Caldas de Vizela

more info »

Two Night Break for Two at Eurostars Leon Hotel, Spain

Spain - León

more info »

Two Night Break at UNA Hotel Scandinavia in Milan, Italy

Italy - Milan

more info »

Two Night Break for Two at UNA Hotel Forte Dei Marmi in Tuscany, Italy

Italy - Forte dei Marmi

more info »

Two Night Break at The Austria Trend Hotel in Ljubljana, Slovenia

Slovenia - Ljubljana

more info »

Two Night Break for Two at BW Hotel Kantstrasse in Berlin, Germany

Germany - Berlin

more info »

Two Night Getaway at the Exe Gran Hotel Solucar in Sevilla, Spain

Spain - Seville

more info »

Two Night Break at The Black Hotel in Rome, Italy

Italy - Basilicata

more info »

Two Night Escape at BW Suites and Residence Hotel in Pozzuoli, Italy

Italy - Pozzuoli

more info »

Two Night Break for Two at Hotel Lumen in Zwolle, Neatherlands

Netherlands - Zwolle

more info »

Two Night Break for Two at the Hotel Fiera in Verona, Italy

Italy - Verona VR

more info »

Two Night Break for Two at Shanghai Hotel in Delft, Netherlands

more info »

Two Night Break for Two at Titania Hotel in Athens, Greece

Greece - Athens

more info »

Two Night Break for Two at Tryp Guadalajara in Spain

Spain - Guadalajara

more info »

Two Night Break for Two at Turim Av Liberdade Hotel in Lisbon, Portugal

more info »

Two Night Break at UNA Hotel One in Sicily, Italy

Italy - Siracusa

more info »

Two Night Escape at EA Hotel Sonata, Prague

Czech Republic - Prague

more info »

Two Night Escape for Two at EA Down Town Hotel, Prague

Czech Republic - Prague

more info »

Two Night Escape for Two at Eurohotel Gran via Fira, Spain

Spain - Barcelona

more info »

Two Night Getaway for Two at Hotel Congreso, Spain

Spain - Teo A Coruña

more info »

Two Night Break for Two at Hotel Lodomar, Spain

Spain - Murcia

more info »

Two Night Getaway for Two at Sercotel Togumar Hotel, Spain

Spain - Madrid

more info »

Two Night Escape for Two at Hotel Petit Mirador, Spain

Spain - Barcelona

more info »

Two Night Escape for Two at Hotel Al Tezzon, Italy

Italy - Padova

more info »

Two Night Getaway for Two at Hotel Donatello, Italy

Italy - Imola

more info »

Two Night Break for Two at Hotel Real Fini Baia del Re, Italy

Italy - Modena

more info »

Two Night Escape for Two at Montaperti Hotel, Italy

Italy - Asciano

more info »

Two Night Getaway for Two at Hotel Villa Gasparini, Italy

Italy - Venice

more info »

Two Night Getaway for Two at Villa Tacchi, Italy

Italy - Padova

more info »

Two Night Break for Two at Welcome Hotel Piram, Italy

Italy - Rome

more info »

Two Night Break for Two at Residence Adonis Adriana, France

France - Carry-le-Rouet

more info »

Two Night Escape for Two at Residence Adonis La Barbacane, France

France - Carcassonne

more info »

Two Night Break for Two at Hotel Alexandra, Germany

Germany - Plauen

more info »

Two Night Getaway for Two at Hotel Ca' Tron, Italy

Italy - Dolo VE

more info »

Two Night Escape for Two at Hotel de Vieux Saule, France

France - Paris

more info »

Two Night Break for Two at Hotel Inter Parisiana, France

France - Paris

more info »

Two Night Escape for Two at Hotel Rex, Italy

Italy - Roma

more info »

Two Night Getaway for Two at Best Western Hotel Rivoli, Italy

Italy - Roma

more info »

Two Night Break for Two at Sangallo Palace Hotel, Italy

Italy - Perugia

more info »

Two Night Esacpe for Two at Intel Hotel Les Orangers, France

France - Cannes

more info »

Two Night Getaway for Two at Leonardo Hotel Budapest, Hungary

Hungary - Budapest

more info »

Two Night Break at Seven Urban Suites Nantes Centre, France

France - Nantes

more info »

Two Night Escape for Two at Atenea Park Suites, Spain

Spain - Barcelona

more info »

Two Night Escape for Two at Hotel Cartagonova and Spa, Spain

Spain - Murcia

more info »

Two Night Break for Two at Hotel Les Agassins, France

France - Le Pontet

more info »

Two Night Escape for Two at Grand Hotel Terme della Fratta, Italy

Italy - Province of Forlì-Cesena

more info »

Two Night Getaway for Two at Hotel Continental Lovere, Italy

Italy - Bergamo

more info »

Two Night Escape for Two at Villa Casalta, Italy

Italy - Sienna

more info »

Two Night Break at Adonis Hotel Marseille Vieux Port

France - Marseille

more info »

Two Night Break at Adonis Paris Sud Fontainebleau

France - Chevilly-Larue

more info »

Two Night Escape at Résidence Toulouse Concorde, France

France - Toulouse

more info »

Two Night Escape for Two at Colosseo Accomodation

Italy - Rome

more info »

Two Night Escape for Two at Domus Julia

Italy - Rome

more info »

Two Night Escape for Two at Domus Nicosia

Italy - Rome

more info »

Two Night Escape for Two at Piccolo Hotel Luisa

Italy - Ponza

more info »

Two Night Escape for Two at Quality Abaca Messidor Hotel

France - Paris

more info »

Two Night Escape for Two at Trust Trastevere Apartment

Italy - Rome

more info »

Two Night Escape for Two at Almodóvar Hotel, Germany

Germany - Berlin

more info »

Two Night Break for Two at Antico Acquedotto, Italy

Italy - Rome

more info »

Two Night Getaway for Two at Hotel Taburiente, Spain

Spain - Santa Cruz de Tenerife

more info »

Two Night Escape for Two at Los Geranos Suites and Spa, Spain

Spain - Fuerteventura

more info »

Two Night Getaway for Two at Macia Gran Lar, Spain

Spain - Seville

more info »

Two Night Escape for Two at Eurostars I-Hotel

Spain - Madrid

more info »

Two Night Escape for Two at Eurostars Zarzuela Park, Madrid

Spain - Madrid

more info »

Two Night Escape for Two at Eurostars Central Hotel, Madrid

Spain - Madrid

more info »

Two Night Escape for Two at Hotel Exe Getafe, Spain

Spain - Getafe

more info »

Two Night Escape for Two at Hotel Exe Moncloa, Madrid

Spain - Madrid

more info »

Two Night Escape for Two at Hotel Exe Plaza, Madrid

Spain - Madrid

more info »

Two Night Escape for Two at Eurostars Oporto, Portugal

Portugal - Porto

more info »

Two Night Break for Two at Holiday Inn Madrid Calle Alcala

Spain - Madrid

more info »

Two Night Break for Two at Gran Atlanta Hotel in Madrid

Spain - Madrid

more info »

Two Night Break for Two at Nuevo Madrid

Spain - Madrid

more info »

Two Night Break for Two at Senator Barcelona Spa

Spain - Barcelona

more info »

Two Night Break for Two at Tryp Barcelona Apolo

Spain - Barcelona

more info »

Two Night Break for Two at Ronda Lesseps Hotel in Barcelona

Spain - Barcelona

more info »

Two Night Break for Two at Prague Olympic in Prague

Czech Republic - Prague

more info »

Two Night Break for Two at Hotel Plaza Alta in Prague

Czech Republic - Prague

more info »

Two Night Break at the Relax Inn in Prague

Czech Republic - Prague

more info »

Two Night Break for Two at Top Praha in Prague

Czech Republic - Prague

more info »

Two Night Break for Two at American Hotel in Naples

Italy - Naples

more info »

Two Night Break for Two at Hotel Nuvò in Naples

Italy - Naples

more info »

Two Night Break for Two at Hotel Leonessa in Naples

Italy - Naples

more info »

Two Night Break for Two at Hotel Suite Esedra in Naples

Italy - Naples

more info »

Two Night Break for Two at Relais Villa Buonanno in Naples

Italy - Naples

more info »

Two Night Break for Two at Green Park Hotel Pamphili in Rome

Italy - Rome

more info »

Two Night Break for Two at Holiday Inn Pisana in Rome

Italy - Rome

more info »

Two Night Break for Two at Bellambriana Hotel in Rome

Italy - Rome

more info »

Two Night Break for Two at Hotel Santa Costanza in Rome

Italy - Rome

more info »

Two Night Break for Two at Pineta Palace Hotel in Rome

Italy - Rome

more info »
Two Night European Minibreak - Smartbox by Buyagift -

£169.99
Two Night European Minibreak - Smartbox by Buyagift -

£169.99